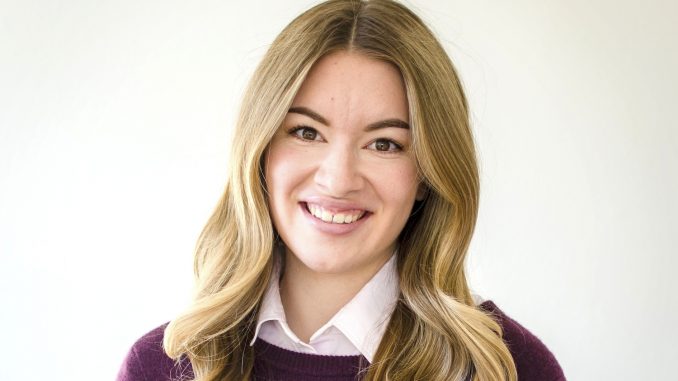 By the Daily Post staff
Katie Causey, a fundraiser for nonprofits who was educated in the Palo Alto school system, announced today she is running for the school board. Causey, who is bisexual, said that if elected she would be possibly the first member of the LGBT+ community to serve on the board.
This November, three of the five seats are up for grabs on the school board. Those three seats are held by Jennifer Dibrienza, Todd Collins and Melissa Baten Caswell. None of them has said whether they're running this fall. Causey is the first candidate to jump into the race.
Causey already has the endorsements of former Santa Clara County counsel and federal election commissioner Ann Ravel, former Assemblywoman Sally Lieber, former Palo Alto councilman Cory Wolbach and Palo Alto Planning and Transportation Commissioner Cari Templeton, who is running for City Council this fall.
Causey is 26, and doesn't have any children. She points out that when Santa Clara County Supervisor Joe Simitian was elected to the school board in the 1980s, he didn't have any children either.
She grew up in the Midtown neighborhood and today lives in the University South neighborhood. She attended Ohlone, JLS and graduated from Paly.
Causey holds a bachelor's degree in women's studies from George Washington University, where her studies focused on examining intersectional approaches to addressing systemic inequality in communities and schools.
"I'm Bi and a proud member of the LGBT+ community," she said in an email to the Post. "Our district's most recent California Healthy Kids Survey reported '73% of LGB 7th graders, 60% of 9th graders, and 66% of 11th graders experienced chronic sadness in the past 12 months.' I hope I can show students how supportive our community is and what a great future they have to look forward to."
During Causey's freshmen year at Paly, the district faced one of its most difficult times when following the recession, multiple students died by suicide.
"It impacted everyone I knew. Mental health is never far from my mind, especially during this stressful time — the mental and physical well-being of every member of PAUSD is my highest priority," she said in a statement. "Right now, we must rely on public health experts, ensure we are clearly and effectively communicating with our community, and actively collaborate to shape solutions."
In response to the pandemic, Causey said she and her campaign began organizing a list of alumni interested in supporting students during this time. "These aren't individuals who are endorsing me or looking for campaign emails. These are alumni who want to help students. There are informal Facebook groups of Alumni for Current Students and an organized Paly Alumni Association — but I've long hoped to oversee an alumni to student mentorship program at PAUSD and I hope this is the first step toward making that a reality."
Students can go to katiecausey.org to be connected with a growing list of alumni.
"This is a fantastic opportunity for students weighing decisions about their post high school careers to talk to recent grads about what navigating stress, networking, and higher education looks like right now," Causey said in her statement launching her campaign. "Students can directly see how professional growth doesn't look one way and isn't a straightforward path. Unexpected things happen, but that doesn't stop growth or success and you're never alone when things get rocky."
While she hasn't served on any school district committees, she's been active in the League of Women Voters of Palo Alto, assisted the Palo Alto Recreation Foundation with their fundraising and community outreach, and served as a Chair within the Fund Development Council of the Junior League of San Francisco assisting their focus on addressing youth social and emotional health.