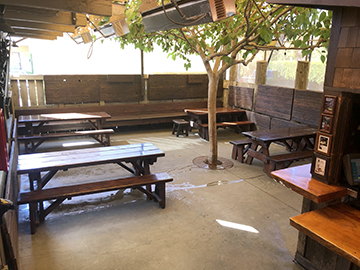 BY EMILY MIBACH
Daily Post Staff Writer
Beginning Saturday (June 6), San Mateo County residents who want to support local eateries don't have to just order take out and can choose to eat outside.
The new health order from San Mateo County Health Officer Dr. Scott Morrow released yesterday allows for outdoor dining as long as social distancing is followed.
Greg Sterns, the owner of the Dutch Goose at 3567 Alameda de las Pulgas in unincorporated west Menlo Park, was hard at work yesterday measuring out the distance between his tables at his restaurant's back patio area. Beginning tomorrow, only about four families will be able to eat at the Dutch Goose. However, in the next week or two, about eight more tables will be added to a new patio at the front of the restaurant.
Sterns said hand sanitizing stations have been added throughout the restaurant and has put up plexiglass in front of the front counter where people order.
Cutlery is now individually wrapped, and menus are now printed out and disposable.
"We're trying to eliminate all touches," Sterns said.
Sterns has been getting ready to reopen the Goose ever since he caught wind that the county may be allowing for the outdoor opening of restaurants.
"It's a step in the right direction," Sterns said. "But we still won't be able to make payroll."
Thankful for landlords
Sterns said he's thankful his landlords, the Beltramo family, haven't collected the rent and are paying to build the patio at the eatery.
"They're the reason we are still in business," Sterns said.
As the Dutch Goose works to build a patio, city officials in the area want to close off city streets to cars in order to let restaurants and other businesses operate outside.
Street closures
Menlo Park is slated to discuss closing down Santa Cruz Avenue between El Camino Real and University Drive to cars later this month. However, Councilman Ray Mueller said that city employees are working to create a "more nimble" plan to allow for restaurants to open back up come Saturday.
On Monday, both Redwood City and San Carlos city councils will discuss closing down portions of their downtowns for the same reason. San Carlos will discuss, and potentially vote on, closing the 700 and 600 blocks of Laurel Street. Redwood City will discuss closing down stretches of Browady, with cross streets such as Jefferson and Middlefield open and Main Street between Middlefield and Broadway, from Friday to Monday.