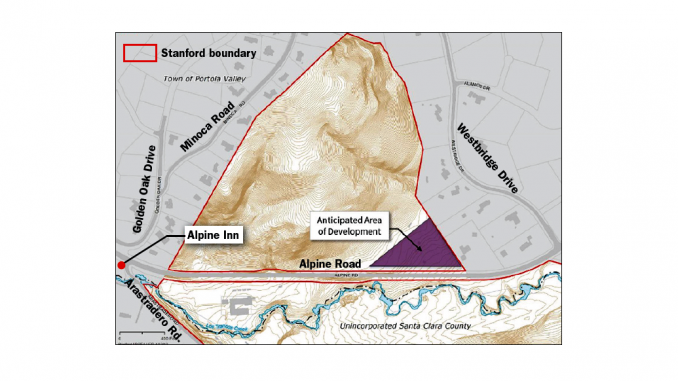 By EMILY MIBACH
Daily Post Staff Writer
Some Portola Valley residents are upset that a proposal by Stanford to build 37 homes near the Alpine Inn on Alpine Road is moving forward despite the project not yet appearing before the town council.
"We are distressed that this project has not been stopped and that our interests are not being listened to," resident Mary Hufty told the town council on Wednesday night.
Hufty is part of a group called Portola Valley Residents United, who have sent at least four letters to the town about the project.
The council voted 3-0 on Wednesday (May 27) night to send a letter to the group responding to some of the claims it has made about the project and the town's handling of it.
Mayor Jeff Aalfs was recused from council's discussion because he has worked with Stanford in the past year. Councilwoman Maryann Derwin was absent.
The project would consist of 27 single-family homes for faculty and three apartment buildings with 12 low-income apartments. The buildings would be on 7.4 acres of the 75 acres that make up the wedge.
Town Manager Jeremy Dennis said the project has not gone before council and that the town's employees cannot hold up a project because they think it is bad.
Right now the project is receiving scrutiny from town employees in preparation for an environmental review.
Of the six residents who spoke Wednesday night, five were against the project.
Resident Kristie Corley said she wants to attend any meetings convened by those doing the environmental review.
"I don't want to be informed later by the EIR. When you're out looking at biology on the site, can we go and walk with you?" Corley said.
Only resident David Cardinal seemed to be in support of the project, saying the town needs more housing.