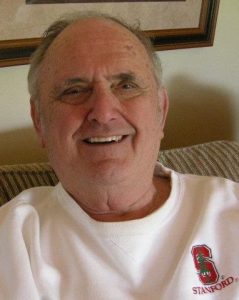 April 11, 1927 – May 15, 2020
Gerald (Jerry) Overman, 93 years old, passed away peacefully on May 15, 2020. Jerry was born in Marion, Indiana and graduated from Marion High School in 1945 where he met his high school sweetheart and future wife, Barbara Pence. Jerry enlisted in the Navy when he turned 18, and after boot camp he was assigned to the aircraft carrier USS Hornet. He served on the flight deck and later in the bake shop during the "Magic Carpet" operation to return the troops from the South Pacific.
After Jerry returned home from the service, Jerry and Barbara were married and they moved from Marion to Amboy, Indiana. There they built a house and had two sons, Geral Mark and Robert Lee. Jerry owned and operated the Ballard lumber company in Amboy, but in 1958 the lumberyard burned down. After the lumberyard was rebuilt, they realized the business could not survive. In 1962, in search of a better opportunity, Jerry and Barbara moved the family to California. They bought a house in Palo Alto where they raised their two sons, and met many lifelong friends. Jerry continued to work in the lumber business in San Francisco as a salesman until he retired in 1991. When Barbara passed in 2015, the Palo Alto house was sold, and Jerry moved to a retirement community in San Diego where he could be close to Mark, Bob and their families.
Jerry was a kind, generous and well liked man who made friends easily with his wit, charm and his desire to engage in conversations about the interests of the people he met. He is survived by his two sons, 3 grandchildren and 4 great-grandchildren.