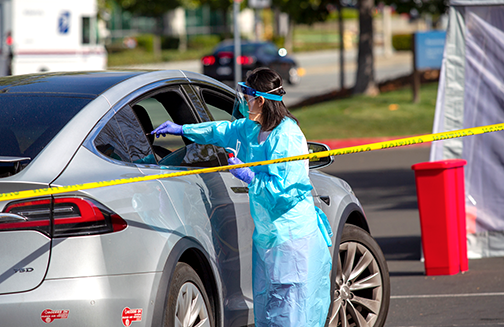 BY EMILY MIBACH
Daily Post Staff Writer
Until now, Santa Clara County was only offering free coronavirus tests in the San Jose area. But yesterday, Joe Simitian, the county supervisor who represents the North County, said that starting Monday (May 25) the tests will be available in Mountain View.
The first site will only be available on Monday at the Mountain View Community Center in the Rengstorff Park pool area at 201 Rengstorff Ave.
Testing will be offered from the county between 10 a.m. and 2 p.m. The testing will be available via the county's mobile testing lab, however no other locations for the mobile lab
appear to have been announced.
But North County residents will soon be able to get tested at two other Mountain View locations, Simitian announced yesterday.
One location will be at the Planned Parenthood at 2500 California St., which should open the first week of June.
The other testing site will be run by El Camino Hospital, but details on that testing site and when it will be up and running was still being worked out between the county and the hospital, according to Simitian.
"If we want more people to be tested, making locally available and convenient sites is essential. This combination of locations centered in Mountain View will be relatively easy to access for North County residents," Simitian said.
There have been calls for the county to ramp up its testing, and on Tuesday the county announced it was opening up two more testing sites, both in San Jose.
North County officials have not been impressed.
Palo Alto Councilwoman Liz Kniss commented at a May 4 meeting that the county has put "very little" into testing and meeting the testing needs at the north end of the county.
It was also pointed out at that meeting that the closest testing site is at Stanford, which is not free to everyone.
In late April, the Santa Clara County Cities Association sent a letter to county supervisors asking them to ramp up Covid-19 testing so the county can reopen. Among the signatories were Kniss, Palo Alto Mayor Adrian Fine, Los Altos Mayor Jan Pepper and Mountain View Mayor Margaret Abe-Koga.
All criteria set forward by the state to reopen involves hitting a threshold of tests. The target for Santa Clara County by May 31 is 4,000 a day, according to Simitian. But the county needs to eventually ramp up to administering 15,000 tests a day.
San Mateo County this week rolled out its mobile testing sites, spending two days each in Daly City, San Mateo and East Palo Alto, where officials had been asking for a testing site.
Testing is available on Friday and Saturday from 9 a.m. to 4 p.m. at the East Palo Alto YMCA at 550 Bell Street.
County Manager Mike Callagy said yesterday during a media briefing that he is trying to get more testing sites ok'd by the state, including a site in North Fair Oaks and one on the coastside.