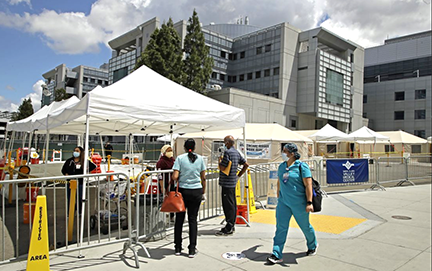 BY EMILY MIBACH
Daily Post Staff Writer
Free testing for COVID-19 will be available to Palo Alto residents at City Hall this week, officials announced Friday. Previously, the county was only offering free tests in the San Jose area, though they were available in the North County from hospitals and clinics.
Councilwoman Liz Kniss said she's thrilled to see testing to come to Palo Alto. She's been pleading with "pretty much any county official who will listen," for at least two months.
Along with Kniss, Palo Alto resident and County Supervisor Joe Simitian has also been putting pressure on county officials to increase testing in northern Santa Clara County.
"You can't make good decisions for the entire county if you don't have good data for the entire county," Simitian said.
Simitian added that as things open up more, it's important to have more testing available throughout the county so people can go back to work knowing they aren't bringing the virus with them.
Kniss said that while Palo Alto residents can go to Stanford and get tested there, it's not convenient for people who work downtown. This way, downtown business employees can go to City Hall at 250 Hamilton Ave., get tested and get the results mailed to them.
The testing will be available Tuesday through Friday at City Hall at 250 Hamilton Ave. from 10 a.m. to 4 p.m., no appointment is needed.