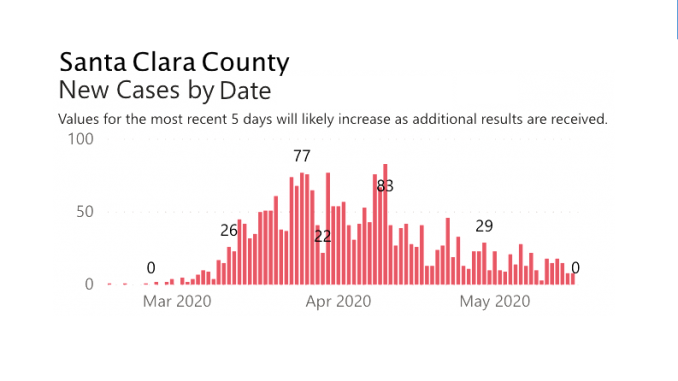 BY SARA TABIN
Daily Post Staff Writer
Santa Clara County hasn't seen an increase in the rate of COVID-19 cases since allowing construction and gardeners, so car parades and curbside retail will be allowed starting Friday.
Health Officer Sara Cody announced the new health order today (May 18).
Cody said the number of new cases in the county has been decreasing even though some restrictions were lifted two weeks ago. Since two weeks is the incubation period for COVID-19, the county decided it was time to ease more restrictions.
Retailers can start selling their wares for pickup as long as they follow county safety protocol like wearing masks and social distancing. This means people still can't go browse the goods inside a store.
Manufacturing and warehousing of retail goods can also start up again as long as workers follow safety guidelines. Public gardens and outside museums are also allowed.
The county's stay at home orders are created by Cody, not the county Board of Supervisors, because state law gives the county health officer the power to issue health orders.
The Post asked Cindy Chavez, president of the Board of Supervisors, whether she thinks picking up items will entice customers to visit retail rather than just shop online.
Chavez said she thinks stores will have the opportunity to re-engage with their customers after being closed for six weeks. She said people have lots of ways of buying the goods they want, but said she isn't sure how curbside retail will play out since she isn't a shopper.
Some of the county's conditions for reopening are increased testing and room in hospitals for possible patients.
Cody said county hospitals are currently staffed and have enough room for ICU patients.
The health department had set a goal of getting 4,000 test results a day before re-opening the county. Cody said they currently are getting about 1,600, but the positivity rate is only 1-1.5%.
Stanford, Palo Alto Medical Foundation and El Camino hospital all have COVID-19 testing, but most of the county's free testing sites are in San Jose. Chavez told the Post that the county is working with cities, including Palo Alto and Mountain View, to expand testing locations.
At least one local resident is excited about the new order.
Palo Alto Superintendent Don Austin took to Twitter last week to complain that a car parade for district seniors wasn't legal. He said if people can wait in their cars to get hamburgers they should be allowed to drive in a parade to celebrate seniors.
Today he said the schools will work on plans now that car parades are legal.