BY SARA TABIN
Daily Post Staff Writer
A CalFire helicopter and Palo Alto firefighters put out a brush fire that scorched five acres on the hillside east of Stanford's Dish this afternoon (May 1).
Smoke from the fire could be seen from El Camino Real.
Fire Chief Geo Blackshire said the call for the fire came in at 2:42 p.m. He said it took about two hours to fully knock the fire out.
He said it was difficult to get to the fire because it wasn't near any roads. Firefighters used four-wheel drive vehicles to get to the fire.
Palo Alto was assisted by Cal Fire, which sent a helicopter that made several trips to drop water on the blaze.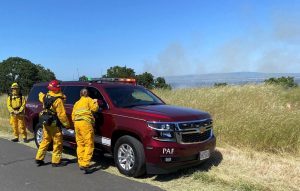 The cause of the fire is under investigation.
Backshire said the fire didn't spread that fast because the plants it was burning aren't that dry yet.
No one was evacuated because of the fire.
Blackshire said the department was monitoring whether an evacuation would be needed, but the fire was far enough from any homes that it wasn't warranted.
Blackshire said Palo Alto is fortunate to have skilled firefighters. He said the mutual aid from Cal Fire was also helpful.