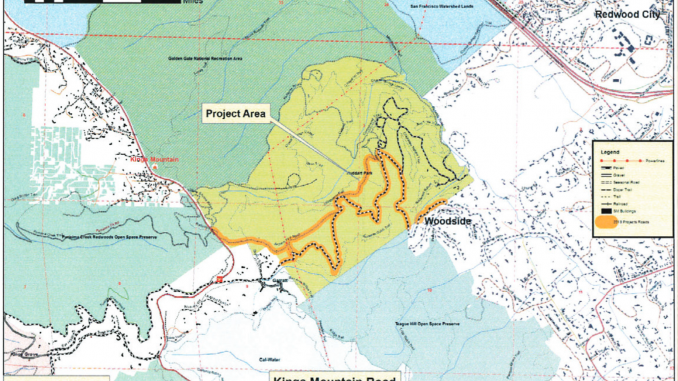 Gov. Gavin Newsom yesterday (March 22) declared a state of emergency in order to bypass environmental regulations so dead trees can be removed in 35 fire-prone areas. One of the areas is along Kings Mountain Road in Huddart Park, west of Woodside.
CalFire said they're going to be clearing out dead oaks along the road because it would be an evacuation route in the event of a major fire. The area has been hard hit by Sudden Oak Death disease, making the trees vulnerable to a wildfire.
"This area has had several fires in the past five years, all of which threatened major transmission lines in addition to several hundred residences," CalFire said in a statement.
"High mortality in oaks and Tan Oaks and densely stocked redwoods with a heavy brush component impact the main evacuation route for populated areas," CalFire said.
Crews will remove dead and dying trees along the sides of the Kings Mountain Road from the border of San Mateo and Santa Clara counties to just before the Teague Hill trail head. Trees would also be removed along the Archery Fire Road that runs north of Kings Mountain Road to Skyline Boulevard. CalFire said the area involved is 467 acres.
No date for when the work would start was announced.
Newsom said clearing dead trees at a quick pace is essential to diminishing future threats. President Trump has blamed California fires on poor forest management.
Criticism from environmentalists
Environmental groups were quick to criticize Newsom's emergency decree.
"Gov. Newsom should reject the Trump approach of logging and rolling back critical environmental protections," said Shaye Wolf, climate science director for the Center for Biological Diversity.
The center and other environmental groups said focusing on retrofitting and creating defensible space around homes is more effective than thinning forests. Sierra Club California said clearing trees might create more danger by loosening soil that could lead to mudslides.
"On the whole we see (Newsom) as an ally on environmental issues. I think what we're disagreeing with here is an approach to a problem that we all recognize," said Kathryn Phillips, director of Sierra Club California.
Newsom's order applies to 35 projects covering nearly 141 square miles of land, allowing state fire officials to go around multiple state regulations. They include provisions of the California Environmental Quality Act, one of the nation's strictest state-level regulations. Administration officials would need to give the go-ahead to each individual project and it's unclear exactly which regulations each individual project would forego.
Newsom said moving through the normal process would drastically slow down the state's ability to act.
"Some of these projects quite literally, not figuratively, could take two years to get done, or we could get them done in the next two months," he told an audience in Lake County, the site of several massive wildfires in recent years.
The union representing state firefighters praised Newsom's plan.
"These circumstances are unusual, unpredictable, unseen in our lifetime, and courageous decisions that sometimes go against the political winds need to be made," said Tim Edwards, president of CalFire Local 2881.
Republican state Sen. Pat Bates also praised Newsom for acting with urgency ahead of the wildfire season.
"I stand ready to assist the governor with any legislative action to eliminate bureaucratic roadblocks that could slow these projects," she said in a statement.
— Staff and wire reports