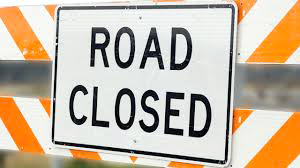 BY EMILY MIBACH
Daily Post Staff Writer
Redwood City officials may be closing down a total of 6.5 miles of neighborhood streets to most cars in order to let people get some fresh air while staying 6 feet away from other pedestrians.
Redwood City is the first city on the Peninsula to announce that it will be closing streets due to the pandemic. However, city councils in Palo Alto and San Mateo have both expressed interest in closing streets to cars. Oakland was the first city to close streets.
There will be 11 street segments that will be largely closed off to cars, according to the proposal from city Transportation Manager Jessica Manzi. Most of the segments are between a third- and sixth-of-a-mile. The longest is for Vera Avenue between El Camino and Alameda de las Pulgas.
The idea, dubbed "slow streets," is to create more space for residents to exercise in their neighborhood while still socially distancing from their neighbors. With social distancing, there isn't always room to pass on a sidewalk.
At the council's April 13 meeting, Councilwoman Giselle Hale said that she's heard of parents pushing children in strollers who will walk in the street in order to maintain 6 feet of distance from other pedestrians. The idea returns to council tonight (April 27).
Closures might benefit parks
Oakland officials said that they expected the street closures would reduce the number of people exercising in the city's parks.
In her report, Manzi reminds people that the slow streets program is to help people maintain social distancing, and not to encourage folks to use the street to play or exercise with others.
Manzi proposed that the closures begin around May 1, though council will have the final say on that.
The city is considering closing the following 11 streets:
• Flynn Avenue from Middlefield Road to Spring Street,
• Stambaugh Street from Charter Street to Maple Street,
• Allerton Street from Winslow Street to Whipple Avenue,
• Poplar Street from Woodside Road to Hudson Street,
• Vera Avenue from El Camino to Alameda de las Pulgas,
• Ebener Street from Geneva Avenue to Roosevelt Avenue,
• Page Street from Second Avenue to 17th Avenue,
• Cypress Street/East Oakwood Boulevard from Woodside Road to Oakwood Avenue,
• C Street from Stafford Street to Industrial Avenue,
• Katherine Avenue from Elwood Street to Nevada Avenue, and
• One lane in each direction on Bridge Parkway from Redwood Shores Parkway to Marine Parkway.
It is possible that other streets will be closed to cars in the future.
Vehicles will not be totally banned from most of the streets, according to Manzi's report. This is because most of these streets are neighborhood streets where people still need to get in and out of their driveways.
Delivery vehicles will still be allowed.
And emergency vehicles will be permitted on the closed streets.
Road blocks
Some of the major intersections will be barricaded to keep cars out. But for some of the less major streets, city employees will hand out signs for residents to put in their front yards to warn motorists that they are driving on a "slow street" and to expect pedestrians, joggers or cyclists to be in the street.
The program is set to cost the city about $10,000 for its first round of street closures, and $30,000 once more streets are closed.
The criteria for selecting the streets included:
• That they weren't routes for buses or emergency vehicles,
• Street usage,
• And whether bike lanes are planned.
For instance, the city already has plans to test out Vera Avenue as a "bicycle boulevard," by adding signs, and potentially adding speed bumps or roundabouts.
The city was planning on installing some removable elements of the bicycle boulevard over the summer along Vera to test out the idea, but because of COVID-19, those plans may be delayed, according to the city's webpage on the project.
The council will be discussing the "slow streets" proposal at its Monday (April 27) night meeting that begins at 7 p.m. People can watch either on the city's website or by going to redwoodcity.zoom.us and entering meeting ID 994-6440-0436.