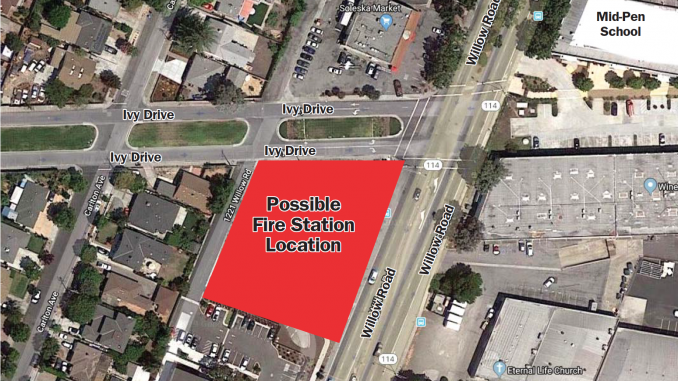 BY EMILY MIBACH
Daily Post Staff Writer
Menlo Park's city manager said yesterday (Oct. 31) that the Menlo Park Fire Protection District's plan to build a fire station on land the city bought this week will get "top priority" as it decides what to do with the property.
The City Council unanimously voted on Tuesday (Oct. 29) to buy a plot of land at 1283 Willow Road, across the street from Facebook's proposed Willow Village, for $3.6 million from MidPen Housing.
MidPen purchased the property in 2016 with the intent to develop the land, but decided to sell it for tax purposes. The city is working with MidPen to finalize the purchase, which includes an agreement for MidPen to use part of the land to store construction equipment while the apartments next door at 1345 Willow are rebuilt.
Prior to the council's discussion on Tuesday, Fire Chief Harold Schapelhouman sent a letter to council members on Monday alerting them that the district is interested in buying 1283 Willow Road and opening a new station there, to be called Station 88.
City Manager Starla Jerome-Robinson said that there are no planned uses for the property, and a decision as to how the site will be used will be part of a public council discussion.
Since the fire district is interested in using the site for a fire station, that option will be given "top priority," Jerome-Robinson said.
If it is determined that the property is good for a fire station, then the council can sell the land to the fire district. The fire district has been interested in expanding Fire Station 77 at 1467 Chilco St. because of all of the growth on the city's east side. But the city owns the land and the district leases it.
If the city ends up selling the land at 1283 Willow to the fire district and a new station is built, Schapelhouman said Station 77 could be used as a joint police and fire center, and contain the district's tools for responding to emergencies on the Dumbarton Bridge or in the Bay.
Schapelhouman said that before Station 88 is built, assuming the land is bought by the district, he wants to redo Station 4 at 3322 Alameda de las Pulgas and at least the training portion of Station 1 at 300 Middlefield Road.