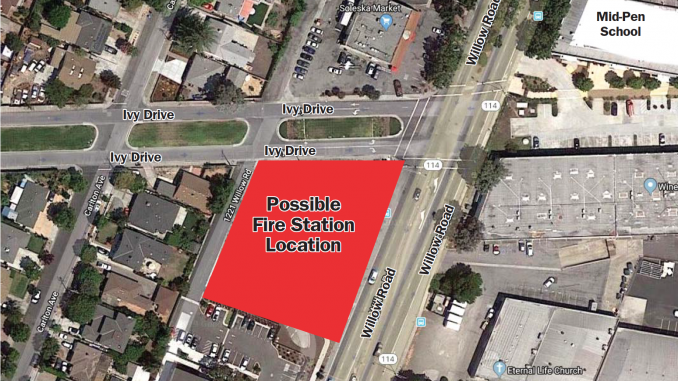 BY EMILY MIBACH
Daily Post Staff Writer
Menlo Park City Council has decided to buy a piece of land at the corner of Ivy Drive and Willow Road for $3.6 million that was once slated to be a police substation.
That project never came to fruition, but the land at 1283 Willow Road, across the street from Facebook's proposed Willow Village development, may one day be a new fire station for the Menlo Park Fire Protection District.
Fire Chief Harold Schapelhouman sent a letter to council members on Monday alerting them that the fire district is interested in buying 1283 Willow and opening a new station there, to be called Station 88.
The land at 1283 Willow could fit a drive-through station, similar to Station 2 at 2290 University Ave. in East Palo Alto and Station 6 at 700 Oak Grove Ave. in Menlo Park.
The city was poised on Tuesday to buy the land, but City Manager Starla Jerome-Robinson said that there is no reason why the city can't turn around and sell the property to the fire district once the district affirms it wants to buy the land.
The council voted unanimously on Tuesday (Oct. 29) to buy the land after lengthy discussion. The council needed to meet behind closed doors for a few minutes to talk about the sale and the fire district's interest in the property.
The fire district has been interested in expanding Fire Station 77 at 1467 Chilco St. because of all of the growth on the city's east side. However, the city owns the land and the fire district leases it.
If the city ends up selling the land to the fire district and a new station is built, Schapelhouman said Station 77 could be used as a joint police and fire center, containing the district's tools for responding to emergencies on the Dumbarton Bridge or in the Bay.
Schapelhouman said that before Station 88 is built, assuming the district buys the land, he wants to redo Station 4 at 3322 Alameda de las Pulgas and Station 1 at 300 Middlefield Road.