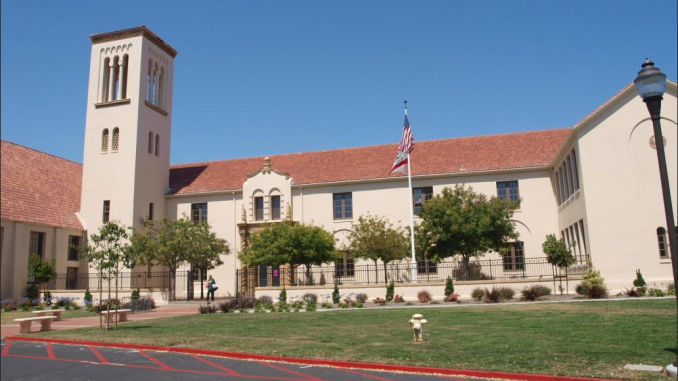 BY SARA TABIN
Daily Post Staff Writer
Doug Stotland was fired as girls water polo coach at Palo Alto High School because a player's parents pressured school administrators after he attempted to discipline the player, the coach's lawyer told the Post.
"The evidence is that he was terminated of the heavy handedness of one set of parents who were irrational and forceful with the school administration," said attorney Todd Emanuel of San Mateo.
Stotland, who had coached the girls team since 2017, has not sued the district but is seeking re-instatement, said Emanuel.
Emanuel said Stotland was told that he is an "at will" employee — meaning he could be fired at any time without a reason — and that his service was no longer needed.
The trouble began in May, when one of the team members asked to have a routine meeting with Stotland about how she could improve as a player, according to Emanuel. During the meeting the student seemed upset. Stotland asked if she wanted to stop but she said she wanted to continue, Emanuel said.
Emanuel said it is not clear why the student was upset, but speculated it might have been because she wanted to be a team captain and that was "not in the cards."
The player habitually bullied several other players on the team and sometimes refused to participate in plays during games, said Emanuel. After the meeting between the player and Stotland, the school administration told him he was not allowed to talk to the player and that she was allowed to leave practices whenever she wanted if she felt uncomfortable, said Emanuel.
Other players were upset that the coach had no authority over the player, he said.
At a game this month the player "caused quite a bit of difficulty" and Stotand suspended her. A few days later he was fired, said Emanuel.
The player's parents are wealthy and have donated money to the school and specifically to its aquatics center, according to Emanuel.
"We don't blame the player. We blame the school administration for bowing to the pressure," said Emanuel. "He loves coaching water polo, he loves the kids, he loves the families and he was and is a very devoted coach. He is fighting this because he was terminated for reasons that have nothing to do with his performance or moral character."
Members of the water polo team wore pink caps instead of their school caps and passed out fliers criticizing the termination. Emanuel provided the Post with a copy of a flyer.
"We were not respected or supported in this process, and we have seen that only the viewpoints of a select few platers and families have been heard and acted on," reads the flyer.
What's the school administration's side of the story? Paly Principal Adam Paulson and Athletics Director Nelson Gifford did not respond to requests for comment Friday evening.
Stotland previously worked for Facebook and has a bachelor's degree from Northwestern University, according to his Linkedin page.