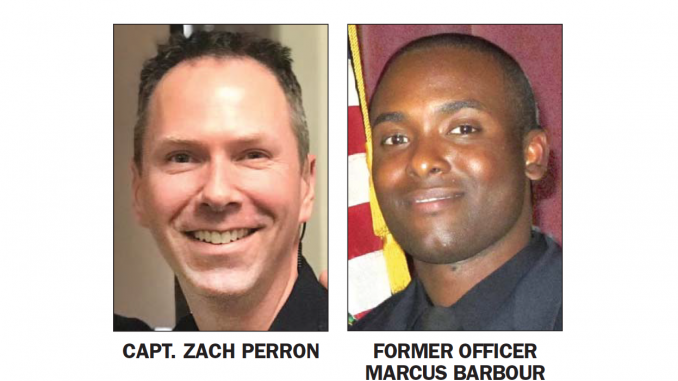 BY SARA TABIN
Daily Post Staff Writer
An independent auditor's report about Palo Alto police Capt. Zach Perron's use of a racial slur while speaking to a black officer was supposed to be released to the public in June, but has been delayed by the city.
The city won't give a date for the report's release or explain why the report is tied up.
Perron, who is white, allegedly joked that "n***as don't swim" to then-Officer Marcus Barbour after Barbour jumped into San Francisquito Creek to save a drowning black felon he was chasing on Jan. 28, 2014. Barbour is black.
Another officer lodged a complaint over the incident in 2017. The city hired an outside law firm to investigate the incident. That firm's report was given to the city's independent police auditor, which normally reviews police disciplinary cases, for review in May.
The report from the auditor should go to City Council and be made publicly available when it is completed.
City Attorney Molly Stump said last week that the independent auditor's report is "pending." She would not give a date for when it might be available and declined to give specifics about why it is delayed.
"We're aware people are interested in it," she said.
Steve Connolly, an attorney with the police auditing firm, the Office of Independent Review, told the Post in May that the report would be released in June.
Michael Gennaco, Connolly's partner, said yesterday that his firm is still awaiting "further guidance" from the city about the report. He told the Post in September that the "ball (was) in the City's court."
In September, an employee at the City Clerk's office, who would only identify herself as Kim, said the report was with the Police Department.
When the City Council decided to have a police auditor review disciplinary cases in 2007, the procedure was that the auditor's report would go directly to the City Clerk, which would release it to the council and public.
At some point over the years, the procedure changed. Now the auditor's report goes to the police and city attorney, which apparently recommend changes, before arriving at the council dais.
Barbour, a U.S. Army veteran who later won the police department's Medal of Valor for rescuing the man, told the Post earlier this year that Perron made the comment in a hallway at the police station in front of other officers.
Barbour left the department in January 2017 to work for another law enforcement agency. That was around the time Chief Dennis Burns retired and Perron was promoted from lieutenant to captain.