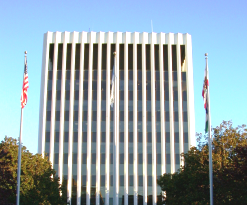 BY ALLISON LEVITSKY
Daily Post Staff Writer
Palo Alto City Council will consider giving raises to four top city employees on Monday night, bringing City Manager Jim Keene's salary past the $300,000 mark.
If approved, the 5% raise would bring Keene's salary from $298,542 to $313,477. City Attorney Molly Stump's increase would bring her salary from $270,712 to $284,253.
A report to council described the increases as "merit raises," but no details were given about why the officials merited the raises. City Auditor Harriet Richardson and City Clerk Beth Minor are up for 4% raises. Richardson's $180,315 salary would increase to $187,533 and Minor's $141,148 salary would increase to $146,806.
Keene's contract entitles him to a transportation allowance of $600 per month and a subsidized mortgage. Stump's contract entitles her to a transportation allowance of $325 per month.
Keene and Stump are also entitled to two retirement plans, between the California Public Employees' Retirement System and city contributions to a 401(a) retirement plan account.
It's widely believed at City Hall that Keene will retire next year. He said in 2008, when he took the job of city manager, that he would like to work 10 years.