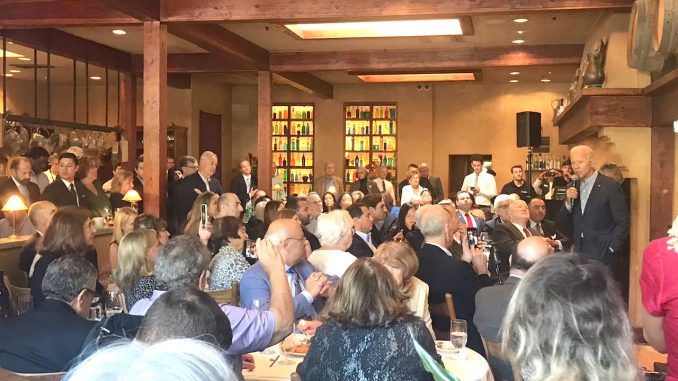 By the Daily Post staff
Joe Biden visited Palo Alto's Evvia restaurant yesterday (Oct. 3) for a private fundraising luncheon where donors paid $1,500 to $10,000 to hear the former vice president and 2020 presidential candidate speak.
Those spotted at the luncheon included Palo Alto Councilwoman Liz Kniss, state Sen. Jerry Hill, developer John McNellis, political technology entrepreneur Michelle Kraus and Burlingame attorney Joe Cotchett, who served as emcee.
Another attendee, former Palo Alto Planning Commissioner Arthur Keller, said Biden told the donors that he felt he could win the formerly blue states Trump carried in 2016 — Michigan, Ohio, Pennsylvania and Wisconsin. Biden was also optimistic about taking Georgia, North Carolina, Florida and possibly Texas, which usually goes red.
Biden said he believed he could elect more Democratic senators and members of the House next year if he were the nominee.
Biden tried out a line on the group, saying "It's not merely keeping the faith, it's spreading the faith."
Keller noted that Biden, 76, looked trim and healthy. He made eye contact with the people in the room. "He was very confident and very comfortable," Keller remarked.
The menu
The menu included lamb ribs, salmon, oysters, shrimp, roast beef and wine. The Greek restaurant is owned by Los Altos Hills billionaire real estate developer George Marcus, a major Democratic donor.
Biden was asked who he wanted for a vice president should he get the Democratic nomination. Biden said he was an expert on the vice presidency — serving in that post for eight years under President Obama — and he wanted somebody who was aligned with his political views and was simpatico with him. Biden pointed out that Obama delegated particular tasks to him, and trusted that he would carry out those jobs the way he wanted.
He indicated that he would consider both current candidates in the Democratic race and other Democrats.
Trump has urged the governments of Ukraine and China to investigate the activities of Biden and Biden's son, Hunter, in their countries. Trump has said that Hunter Biden profited from his father's position as vice president.
At yesterday's luncheon, Biden responded by criticizing Trump's character, and saying that the president won't be able to destroy him or his son.
Fundraising and polls
At the start of Palo Alto's fundraiser, Biden's campaign announced that he had raised $15.2 million in the third quarter of the year, putting him behind Bernie Sanders ($25.3 million) and Pete Buttigieg ($19.1) million, but ahead of California Sen. Kamala Harris ($11.6 million). Elizabeth Warren has yet to reveal her fundraising totals for the quarter.
President Trump raised $125 million in the third quarter.
Also yesterday, the nonpartisan Public Policy Institute of California released a poll showing Biden was within a point of leading the Democratic pack in the March 3 primary.
Among likely California voters identifying as registered Democrats or Democratic-leaning independents, Warren led with 23%, followed by Biden at 22% and Sanders at 21%. Harris was at 8% in her home state and Buttigieg trailed at 3%.
After his visit to Palo Alto, Biden headed to San Francisco where he had two more fundraisers last night.