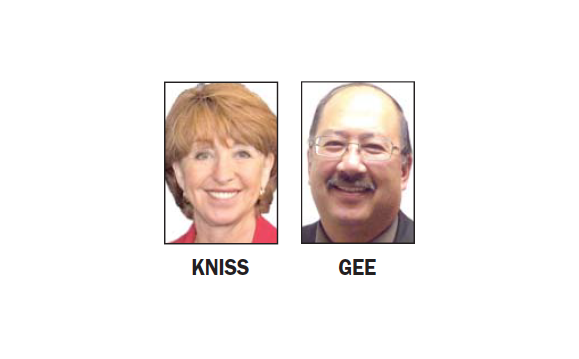 BY ALLISON LEVITSKY
Daily Post Staff Writer
The state agency that fines politicians for ethics violations has been investigating Palo Alto Mayor Liz Kniss and Redwood City Councilman Jeff Gee for more than a year — the benchmark at which almost 90% of cases are resolved, according to the Fair Political Practices Commission.
About two-thirds of all of the commission's cases are resolved within six months, spokesman Jay Wierenga said.
Yet this month's hearing agenda was posted yesterday (April 9) and listed other politicians who had agreed on a settlement for violations while Kniss' and Gee's cases were not listed. That means the Gee and Kniss cases are still open.
Wierenga said yesterday that he couldn't release any information about the investigations until they closed and that he didn't know when that would be.
Gee came under scrutiny after he voted on a Stanford project while his management and consulting firm, Swinerton Management and Consulting in San Francisco, was engaged with them as a client, according to a complaint filed on Dec. 29, 2016.
Gee is vice president of Swinerton Management and Consulting in San Francisco. In April 2016, the firm completed three remodeling projects at the Stanford Healthcare Center in Redwood City, according to the complaint and Swinerton's website.
An anonymous complaint filed against Kniss after the 2016 election claimed that she had failed to report campaign contributions in a timely manner and to identify donors by occupation and employer.