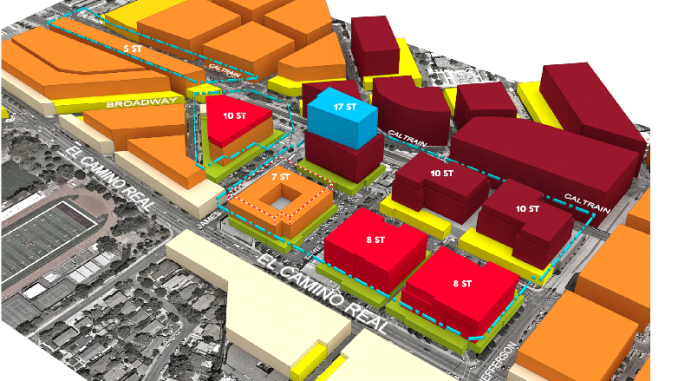 BY EMILY MIBACH
Daily Post Staff Writer
A developer has proposed Redwood City's largest project yet — a complete replacement of Sequoia Station with six buildings, including a 17-story tower, that could bring in thousands of employees while housing just hundreds of people.
The redevelopment of Sequoia Station and the nearby SamTrans and Caltrain lots is being proposed by Los Angeles developer Lowe Enterprises, which wants to build 1.6 million square feet of office space, stores and apartments. The development would include 175,000 square feet of retail space and 440 apartments.
The jobs-to-housing ratio for the entire project is 12 jobs to one home.
At 1.6 million square feet, this is the third largest proposed development in the mid-Peninsula. Facebook wants to build 1.7 million square feet for its Willow Road Village campus in Menlo Park. And Stanford is proposing to build 3.5 million square feet under a proposal submitted to Santa Clara County.
Documents filed with the city show that the Lowe's project is split up onto three lots — Sequoia Station, the lot owned by A-1 Party Rental and Caltrain and a Caltrain parking lot.

The largest portion of the project is the 1.4 million square feet of office space and 225 apartments at Sequoia Station. How much retail space will be included in that portion of the project is yet to be seen. However, Lowe's proposal says the current Safeway and CVS will be revamped.
Assuming that the 1.4 million square feet of office space portions out to 200 square feet per employee, that would add 7,000 new workers.
But there would only be homes for 322 people, using the estimation that about 1.5 people live in each new apartment.
For the Sequoia Station portion alone, the jobs-to-housing imbalance is 20.7 jobs for every one new home.
Six buildings are proposed for Sequoia Station, ranging from seven stories at the corner of El Camino and James Avenue to 17 stories at the corner of James and the railroad tracks. The rest of the project would be eight to 10 stories tall.
Heading north, the next portion of the project is bounded by James Avenue, California Street and the railroad tracks. It is currently owned by Caltrain and the owners of A1 Party Rentals and Events. That portion of the property is proposed to be 10 stories tall, have 235,000 square feet of office space and 215 apartments. The jobs-to-housing ratio for this portion of the project is 3.6 jobs for every one home.
Nothing is proposed for the Caltrain parking lot that runs between the railroad tracks and Perry Street.
Lowe says in its project proposal that it wants to explore putting a "future transit facility" where the parking lot currently is.
The project also proposes to extend Franklin Street north into Sequoia Station and to extend Harrison Street to El Camino. However, in order to extend Hamilton, a bridge or tunnel would have to be built around the train tracks.
In order to submit a formal application with the city, Lowe is asking the City Council to change its current zoning in the area to allow more offices and homes. The city's current downtown zoning plan is maxed out on office space and market-rate housing.
"Without a (zoning change), Sequoia Station cannot be redeveloped and will remain in its current state — an outdated, car-centric, neighborhood-serving commercial center," Senior Vice President Alan Chamorro wrote in a letter to council about the project and asking for the zoning change.
But with the 12-to-1 jobs-to-housing imbalance for the entire project, it's unlikely the proposal will make it past the scrutiny of the city's Planning Commission or City Council, both of which have repeatedly told developers to add more housing to projects.
On Sept. 9, council told developer Greystar Real Estate to add more housing to its six-block office, housing and retail project that would add 4.7 jobs for every one home.
No meeting to discuss the zoning change is scheduled with either the Planning Commission or council, according to the city's website.