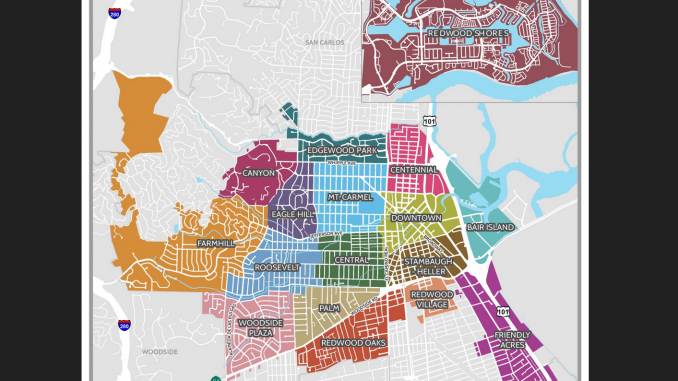 BY JEN NOWELL
Daily Post Correspondent
Some Redwood City residents may soon find themselves paying a $60 fee to park on the street in their own neighborhood as the city looks to strengthen its residential permit parking program.
City council votes tonight (Sept. 9) on whether to approve amendments and updates to the city's permit parking program, and it will provide feedback to city officials on proposed fees for permit holders.
The city's permit parking program was established in 1985 as a way to discourage long-term parking in neighborhoods by people who do not live in the neighborhoods, such as workers and shoppers, according to a report from Christian Hammack, Redwood City's parking and transportation demand manager.
This is still a concern today, however, the city has discovered that other factors may be adding to the parking congestion, Hammack said. Residents are using their garages for storage or to house people instead of cars, he said. Some residents own more cars than they have spaces for, and the city is seeing a rise in commercial vehicles connected to home-based businesses, he said.
The city has seen an increase in complaints from residents about the difficulty of finding parking on the streets in front of their homes, Hammack said.
As for the fee, the city completed a fee analysis and determined it currently costs the city about $36,000 a year to run the permit parking program, Hammack said. It costs about $15,000 to establish a new permit area, but this can change depending on the size of the area, he said.
Proposed fees include:
• $60 for the first and second residential parking permit — $30 each year after to renew;
• $130 for the third residential parking permit — $65 each year after to renew;
• $25 for a 14-day visitor parking permit;
• $4 for a one-day visitor parking permit; and
• $25 to replace a lost or stolen permit.
If approved by council, residents will start seeing these charges on permits issued on or after Jan. 1. Council will not vote on a permit fee tonight, but it will provide feedback to city officials who may return to council later this year for a vote.
Paying for the permit program
The money from these fees would not cover enforcement, which costs about $270,000 annually with two parking enforcement officers dedicating half their time to the permit parking areas, Hammack said. To recover this cost with the fee, city officials determined it would add $355 to the cost of each parking permit on an annual basis, he said. City officials are not recommending this, and instead suggest that revenue from parking citations could help pay for enforcement costs.
"The cost of the permits would be prohibitive for many residents and hinder the program's ability to provide parking relief to residents," Hammack said.
As it is today, the city's permit parking program includes the following guidelines:
• On-street parking permits may be issued to property owners and residents within the program's area;
• Up to three annual permits may be issued to a single address;
• Up to 10 24-hour guest permits may be issued per address per year;
• On-street parking time limits are set when the Residential Parking Permit area is established and are typically two hours; and
• The city may charge a fee for the permits, but so far, no fee has been established.
Flexibility for council
At tonight's meeting, city officials are recommending council approve changes to the current permit parking program that would allow the council to:
• set the days and hours when parking is restricted;
• decide the maximum number of permits every household can get, and the number of visitor permits;
• and create a new permit that allows visitors to park for up to14 days.
With city council able to make changes to the program by passing a resolution, Hammack claims it will create more flexibility in providing changes that fit the needs of the residents.
If council approves the ordinance, city officials will meet with residents in each of the permit parking areas to discuss potential changes to the program, including enforcement times, and adding or removing streets from the permit area.
Any proposed adjustments will need to come back to council for approval.
Four permit areas
Redwood City currently has four residential permit parking areas:
• Area A near the south end of Broadway in the Friendly Acres neighborhood;
• Area B near downtown in the Stambaugh/Heller neighborhood;
• Area S which surrounds Sequoia High School, and
• Area C which surrounds Sequoia Hospital.
Parking restrictions are in place Monday through Friday, 7 a.m. to 6 p.m. Cars without permits may receive a $40 ticket for violating the time limit.
There are currently no requests to establish residential permit parking programs in any other neighborhoods in the city, but Hammack said there are requests to expand two of the existing areas. By the end of this year, the city will look into eliminating or reducing the area around Sequoia Hospital at the request of residents, he said.