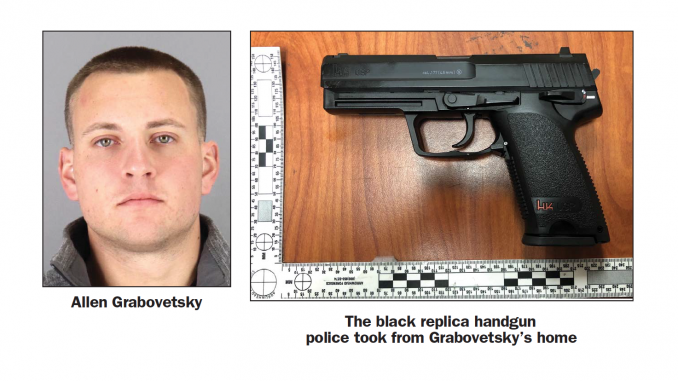 A 27-year-old man was arrested for allegedly impersonating a police officer and brandishing a handgun at two separate shopping centers in San Mateo on Sunday afternoon, police said. This isn't the first time he's been arrested for posing as a cop.
Allen Grabovetsky was arrested after officers initially responded at 3:06 p.m. to the Hillsdale Shopping Center at 60 31st Ave. on multiple reports of a man with a gun in his waistband, according to police.
Witnesses reported that the man had allegedly waved what looked like a black handgun at several people while saying he was an undercover police officer.
He fled before officers arrived, but police were able to obtain surveillance footage and shared it with the public, eventually leading to the identification of Grabovetsky as the suspect.
Then shortly before 6 p.m., officers received reports of a similar case at the nearby Laurelwood Shopping Center where a man had what looked like a black handgun and said he was a member of the military, police said.
While at the scene, officers learned that Grabovetsky had returned to a nearby business and they quickly took him into custody.
Witnesses identified him as the suspect from both incidents and a search of his nearby home in San Mateo found additional evidence, including a black replica handgun, police said.
Grabovetsky was booked into county jail on suspicion of impersonating a public officer and brandishing a replica firearm, according to police.
Grabovetsky has a history of posing as a police officer. In 2010, he was arrested by San Mateo police for pulling over drivers on Highway 101 with a truck rigged with fake emergency lights and a siren. In some cases, he would pull over drivers for traffic offenses but let them off with a warning. He also tried to pick up a 15-year-old girl at the Hillsdale mall.
He pleaded guilty to charges of impersonating a police officer, having marijuana for sale, stalking and sexually annoying a child. He served nine months in jail and was put on five years of supervised probation. He was also required to complete a sex offender treatment program.
— Bay City News