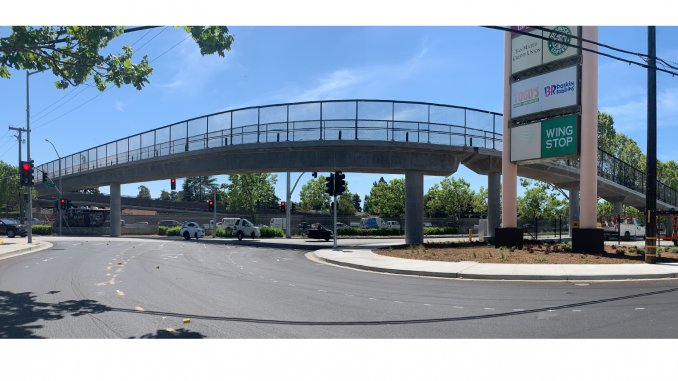 A new pedestrian and bicycle overpass to connect two East Palo Alto neighborhoods long separated by Highway 101 opened on Saturday (May 18) morning.
The overpass, which cost $14 million and took 18 months to build, connects at Newell Road and Clarke Avenue.
"This overpass brings us together physically and is symbolic of joining and sharing resources," said East Palo Alto Mayor Lisa Gauthier.
One-third of the city is on the west side of Highway 101 while across the freeway are all the city's schools, major retail shopping outlets, parks and community centers.
"Before this, if you didn't have a car, someone would have to walk or ride along the busy, traffic-laden streets to get across to schools, shopping centers and parks. Now residents on the other side can take a shorter bike ride or easily walk to shopping, schools and parks," said Vice Mayor Regina Wallace-Jones.
The city received $8.6 million from California's Active Transportation Program to help pay for the overpass construction, with the remainder coming from a combination of local funds, city officials said.
— Bay City News