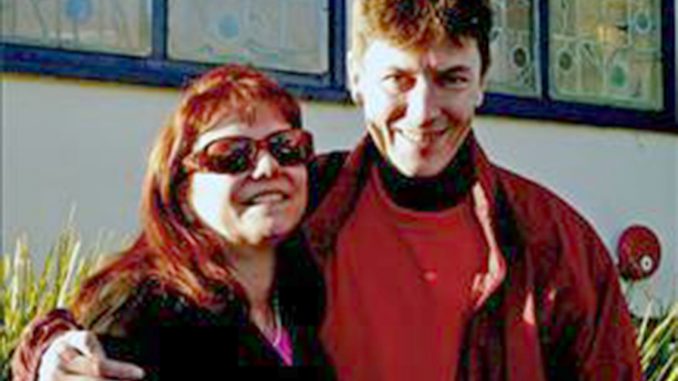 BY ALLISON LEVITSKY
Daily Post Staff Writer
The woman who died after she was hit by a car on El Camino Real in Mountain View was a former lawyer-turned-student attendant in the Palo Alto school district, her sister said today (April 16).
Mary Ellen Cabanski-Evers, 59, was two blocks from her home at the Hidden Garden Apartments when she was hit while jaywalking across El Camino at Palo Alto Avenue — an intersection without a crosswalk — around 8:20 p.m. Saturday (April 13).
Her sister, the Marin County psychologist Laura Cabanski-Dunning, said that Cabanski-Evers was "extremely intelligent," graduating first in her class from the Sandra Day O'Connor College of Law at Arizona State University.
Cabanski-Evers passed the Bar in Illinois, Washington D.C. and California, her sister said.
She worked for high-level law firms and clerked for a federal district court judge in Washington D.C., where she met her husband of 18 years, Joseph Evers III.
The two cherished the cats they adopted, his obituary said.
By 2013, she had left the legal field to work with disabled students, ultimately becoming a student attendant in the Palo Alto school district.
Evers fought a major illness for several years, during which time Cabanski-Evers cared for him and served as the sole breadwinner for the couple.
He died in 2016 at age 46.
Cabanski-Dunning said her sister took the death "very hard."
"She was very lonely, but she continued to work with special ed kids," Cabanski-Dunning said. "She was very sad, but she was a taxpaying employee working for the Palo Alto school district, a very devout member of a church."
Multiple times in February, Cabanski-Evers expressed feelings of despair in public Facebook posts.
On Feb. 12, Cabanski-Evers wrote, "I feel like s**t. When will this end?"
Nine days later, she posted, "I wake up and sob pretty much every morning."
Cabanski-Dunning said that her sister wasn't always in such a despairing mood in recent months. Some of the other public posts in recent months on her Facebook were more cheerful or humorous.
The Santa Clara County medical examiner ruled the death an accident.
Cabanski-Evers died at the scene. The woman who hit her cooperated with investigators. Police don't believe alcohol or drugs to have played a role in the crash.