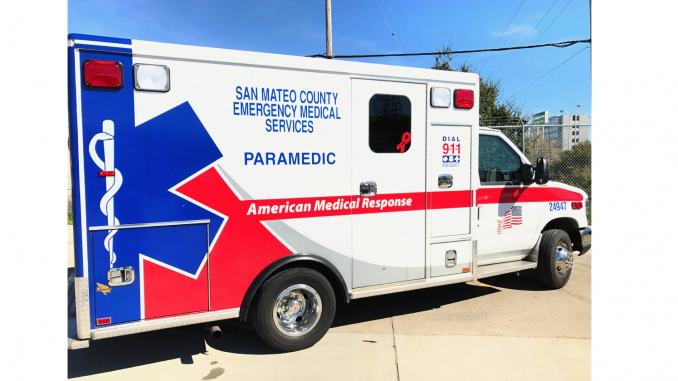 BY EMILY MIBACH
Daily Post Staff Writer
After firefighter-paramedics stabilize a patient who is having a medical issue, the person is often whisked to the hospital in an ambulance.
The future of ambulance service in San Mateo County will be the topic of three meetings in the next few days — one today (April 3) of the county's fire chiefs, another tomorrow (April 4) by Menlo Park Fire Protection District's board and a third on Tuesday (April 9) by the San Mateo County Board of Supervisors in Redwood City.
American Medical Response West, or AMR, which is the current contractor with the county, was the only bidder when the county put out a request for contractors to serve the county's ambulance needs. The new contract would start July 1.
AMR bills patients for rides, and with some of the profits that the company makes, it pays the county a monthly fee to help fire departments fund their paramedic services. Currently, AMR pays the county $4.6 million a year.
The cost of an ambulance trip
The base rate for an ambulance ride is $2,574.05, according to the county's rate card. It costs an additional $62.18 per mile, meaning if someone has a heart attack at Cooley Landing in East Palo Alto, it would cost them $410.39 for the 6.6 miles it takes to get to Stanford Hospital, bringing their total up to $2,984.44. All paramedics use what are called "universal precautions" to make sure no infections or diseases are spread during the treatment of the patient, and that adds $121.47 to the bill, bringing the total to $3,105.
If that the patient needs oxygen, then tack on another $234.76, causing the bill to go up to $3,340.67. A cardiac monitor raises the bill another $241.96, bringing the total to $3,582.63.
Additional fees can also be added for rides at night, or to cover the cost of certain medical supplies such as glucometers ($61.58) or electrodes ($65.77).
Medicare and private insurance generally cover the cost of ambulance rides.
The five-member county Board of Supervisors will make the final decision on the ambulance contract. But there is a joint powers authority made up of the county's fire departments, which reviews the AMR contract.
The joint powers authority also helps govern how departments respond to emergencies outside their own territory, like when a Menlo Park truck goes to Redwood City or vice versa.
Menlo Park Fire District Chief Harold Schapelhouman said there could be some tweaking done to the agreement regarding what happens when one city's truck is called into another city's service area.
Schapelhouman also noted that some departments have changed since the last contract with AMR began, and things may need to be changed slightly in the contract. For instance, Redwood City Fire now also covers San Carlos, and San Mateo Fire has merged with Belmont and Foster City's fire departments
Menlo Park fire board President Virginia Chang Kiraly pointed out it's important for her agency to have a crew available to cover medical emergencies in the district if one of the district's crews is sent to another fire agency's service area.
Is Palo Alto an option for Menlo Park fire?
If Menlo Park doesn't like how the ambulance contract and joint powers arrangement settles out, it could theoretically contract with Palo Alto fire for ambulance service. Palo Alto has provided services to other cities for animal control and wastewater treatment. And Palo Alto provides fire and paramedic services to Stanford.
But Schapelhouman said yesterday he wasn't interested in leaving the San Mateo County joint powers authority for ambulance services and striking a deal with Palo Alto. And Palo Alto's acting fire chief, Geo Blackshire, said that Palo Alto's ambulances stay in Palo Alto.