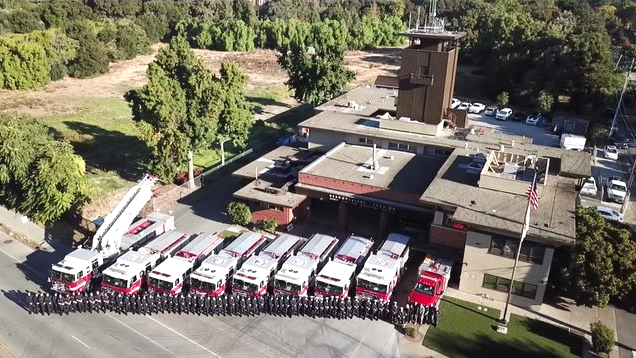 BY EMILY MIBACH
Daily Post Staff Writer
After seven months of negotiations, the Menlo Park Fire Protection District's board has released the conditional agreement for its contract with firefighters, which may result in up to 8% raises for some employees this year and a 22% increase over five years.
(Link to report on the agreement. Link to proposed agreement.)
The board voted in closed session last Tuesday (July 24) to "sunshine" the contract, meaning to release it for public scrutiny and feedback.
The vote was 4-1, with board president Chuck Bernstein dissenting because he "didn't feel it is the right contract to present to the public."
The new contract would add $17 million in expenses over the five-year span of the contract, according to a report by Human Resources Manager Brenna Rowe.
On compensation alone, which includes salaries and benefits, the district would go from spending $21.4 million in the financial year that began on July 1 to spending $26.2 million in the financial year beginning July 1, 2022.
The district's previous three-year contract with firefighters expired last month.
Under the new agreement, district employees would be seeing a minimum of a 14% increase between this year and July 2022. The new raises would be implemented as follows:
• Summer 2018: 3%,
• July 2019: 3%,
• July 2020: 3%,
• July 2021: 1.5%,
• Jan. 2022: 1.5%,
• July 2022: 2%.
However, the pay raises for an individual can be up to 8% a year if they get the 3% increase and go up a "step" on the district's pay grade.
For instance, the current minimum annual salary for an engineer-EMT is $118,339, according to the district's 2017 compensation report. The highest that same engineer-EMT can earn is $130,081. If that employee goes up a "step," he or she will get a 5% raise plus the 3% increase in the contract. The same goes for the firefighter who can earn between $103,302 and $122,555.
However, going up the next "step" is not a guarantee under this contract as it was previously. In this new contract, only employees who have received a satisfactory performance evaluation would move to the next step.
Employees would get the same amount for working overtime, which is time and a half per hour.
Last year, Engineer-Paramedic Matt Menard got $148,334 in overtime, more than his regular salary of $144,156. The 5% "step" difference is meant to keep subordinates from being paid higher than their bosses. For instance, Deputy Chief Don Long's salary last year was $263,278 while Chief Harold Schapelhouman's was $250,113.
The contract also would increase the district's residency stipend — extra pay for living in the district — from $300 a month to $400 a month on Jan. 1, 2019, and to $500 a month on Jan. 1, 2020.