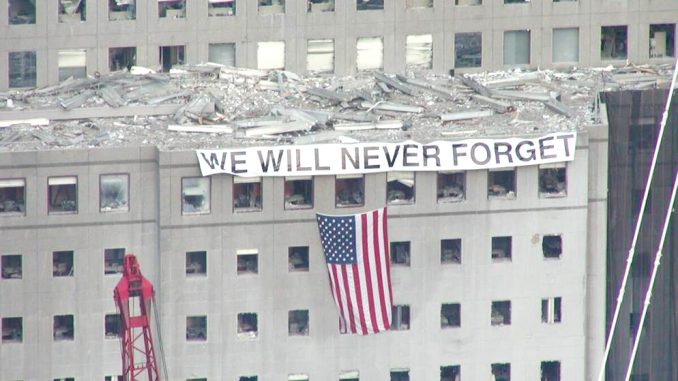 BY EMILY MIBACH
Daily Post Staff Writer
If you pass by one of the Menlo Park Fire Protection District's fire stations in Menlo Park, East Palo Alto, North Fair Oaks or Atherton today (Sept. 11), there will be 343 American flags outside of the stations commemorating the firefighters who died 17 years ago responding to the terrorist attacks in New York, Washington D.C., and Pennsylvania.
The flag memorial is a tradition in the fire district since the first or second anniversary of the terrorist attacks, said Chief Harold Schapelhouman.
"It's in respect to (the firefighters) and the ultimate sacrifice they gave," Schapelhouman said. "They raced to go out and save as many people as they could and gave the ultimate sacrifice, and that speaks to our profession."
Schapelhouman was one of the 18 firefighters from Menlo Park who went as part of a 67-person team of Bay Area firefighters who went to help search through the rubble of the World Trade Center.
For three weeks, Bay Area firefighters then sifted through the debris and ashes to recover any human remnants from the attack, a slow, dangerous and scarring task.
"You never forget the smell or the visuals. People were outside of the perimeter lines holding up pictures and you knew that what you were finding didn't look like those pictures," Schapelhouman said. "But then you come back and people praise you and give you accolades. You try to be courteous, but you don't feel that way."
Responders returned with illnesses
While no one from Menlo Park's fire department died while combing through the skeleton of the World Trade Center, Schapelhouman said there were a few close calls, since rubble between stories, elevator shafts or pipes sometimes had large gaps for people to fall down.
But upon returning home, Schapelhouman said that most of the 67 Bay Area responders were sick, due to the terrible air conditions in the plume of the attack, with just about half saying they had a chronic cough, and others, like Schapelhouman, suffering from sinus infections.
Schapelhouman said prior to responding to 9/11, he had never had any sort of sinus issue, but now just about every year, he gets one.
But, he points out, things are far worse for others who were at Ground Zero longer, with some first responders having contracted cancer in the 17 years since the terrorist attacks.
At least 182 firefighters have died of an illness or injury related to responding to the 9/11 attacks, according to ABC News.
Of the 18 Menlo Park firefighters who went to Ground Zero, eight have retired, and the other 10 are still working with the department, Schapelhouman said.
Two of them, Battalion Chief Ben Marra and Capt. John Wurdinger, discovered that in 2016, someone had set fire to the district's memorial at Fire Station 2 at 2290 University Drive in East Palo Alto.
Six flags were burned and others were damaged. The person who set the flags on fire while firefighters were out responding to an emergency, was never caught.