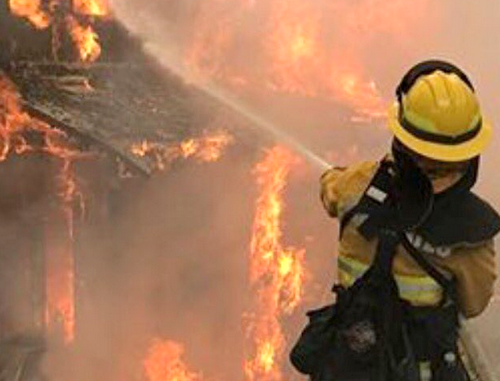 The San Mateo Fire Department tweeted this picture of one of their firefighters battling a blaze in the North Bay.
BY ALLISON LEVITSKY AND EMILY MIBACH
Daily Post Staff Writers
Nearly 100 firefighters and police officers from the Peninsula were sent yesterday to battle wildfires in Napa and Sonoma counties.
"When we get these requests, we try to be out the door," said Palo Alto Fire Chief Eric Nickel. "Our philosophy is, we treat a call across the street the same way we treat a call across the state."
Palo Alto's Engine 65 from Station 5 at 600 Arastradero Road joined engines from Sunnyvale and Santa Clara and two from San Jose, according to Nickel.
Mountain View has also sent seven firefighters and one engine to the fires, according to the department's Twitter page.
'Strike teams'
Both San Mateo and Santa Clara counties sent "strike teams" — 22 firefighters, made up of five engines from different agencies operated by four firefighters and two battalion chiefs. San Mateo County sent two teams while Santa Clara has sent at least one.
A strike team can be deployed for up to two weeks.
San Mateo County's strike teams are made up of firefighters from Menlo Park, Woodside, Redwood City, Central County and San Mateo departments.
Menlo Park Fire Protection District Chief Harold Schapelhouman said many of his district's employees have friends and family who have been affected by the fire and they are "itching to get into the fight to help bring this to a speedy conclusion."
Schapelhouman also said that one of the district's battalion chiefs who lives in Napa was evacuated at 2 a.m. yesterday, and is now staying with family.
Local police and sheriff's deputies are also assisting with the fires. Officers from the San Mateo Sheriff's Office, Redwood City, San Mateo, East Palo Alto and Belmont police departments went to Sonoma to assist with evacuations, look for looters and help with traffic control, said Sheriff's Office Spokesman Detective Sal Zuno.
A caravan of police cars
Zuno said there were other agencies from the county that were part of the caravan of 26 patrol cars that went from San Bruno to Santa Rosa yesterday morning.
"Sheriff (Carlos) Bolanos will be providing resources around the clock to that area until they don't need us," Zuno said. "They're going to need a lot of help for some time, it's tragic up there and we will do everything we can to help.
Belmont police last night were patrolling in the Glen Ellen-Kenwood area in Sonoma County, watching for looters and helping with evacuations, according to the agency's Twitter. Santa Rosa police imposed a curfew that started at 6:45 p.m. yesterday and ends at 7:15 a.m. today for mandatory evacuation zones. Anyone found in those zones during the curfew could be stopped or arrested.