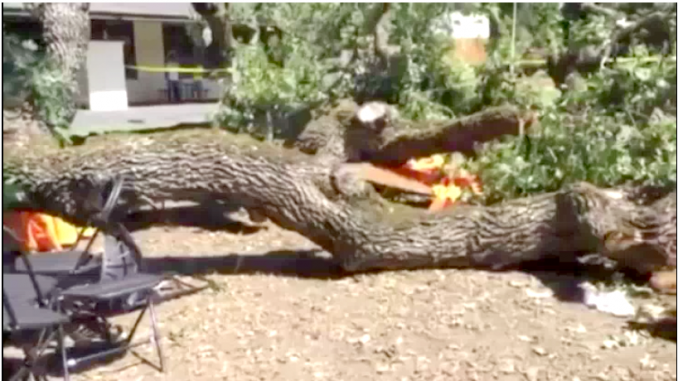 BY EMILY MIBACH
Daily Post Staff Writer
The family of a toddler who was injured when a tree branch came crashing down at a company picnic at Menlo College in Atherton is suing the school.
Zealyn Garcia, who was 2 at the time, suffered a concussion and a skull fracture that ran from the top of her head to her left eye, the lawsuit filed in San Mateo County Superior Court said.
Zealyn's mother and father, Jasmine and Chris Garcia, contend in the lawsuit that the college should have known the 50-foot-long tree branch was already breaking away from the tree before the mishap on Aug. 5, 2017.
Julie Dale, who was also injured by the branch, filed a second lawsuit against the college on Friday in San Mateo County Superior Court. The Post reached out to the college yesterday for its side of the story, but did not hear back.
The two women and the toddler were with a small group underneath an oak tree at the college campus at 1000 El Camino Real for a Riverbed Technologies company picnic. Jasmine Garcia is a Riverbed employee, while Dale was a guest of an employee.
A total of six people were injured by the falling branch.
"The impact of the bough rendered Zealyn unconscious; she initially was not even visible underneath the fallen bough, as she was covered by its extensive branches and leaves," her lawsuit said. "By the time (Zealyn's father, Chris Garcia) removed the branches covering Zealyn with the assistance of other picnic attendees, Zealyn was unconscious, facedown with her arms spread apart, covered in blood and not moving. He did not know whether she was alive."
In addition to the concussion and skull fracture, Zealyn received a large bruise to her left eye and cuts to the rest of her body, according to the suit.
The suit said Zealyn suffers from permanent scarring, eye damage and a possible brain injury, which is still being monitored.
Dale, who was sitting underneath the branch when it fell, was also knocked unconscious and suffered from a deep cut along her forehead, which required stitches, a cut cornea in her eye, a sprained ankle and a concussion that led to long-term nausea and dizziness, her lawsuit states.
The lawsuits state that the college knew about the issue with the tree, given the fact that it had been showing some signs of decay prior to the incident.
Because the college allegedly knew about the damage to the tree and that it may fall or drop branches, the school is responsible for risking the lives of those who were at the picnic.
"Menlo College conducted itself in a despicable manner and with willful and conscious disregard of the rights and safety of others, including its invited, paid guests to its property from whom it reaped profits," the lawsuit claims.
While the college has not said anything publicly about the matter, Menlo Park Fire Chief Harold Schapelhouman said the day after the incident that the college is "very diligent about maintenance and the upkeep of their campus which includes a significant number of large, beautiful, heritage oaks."