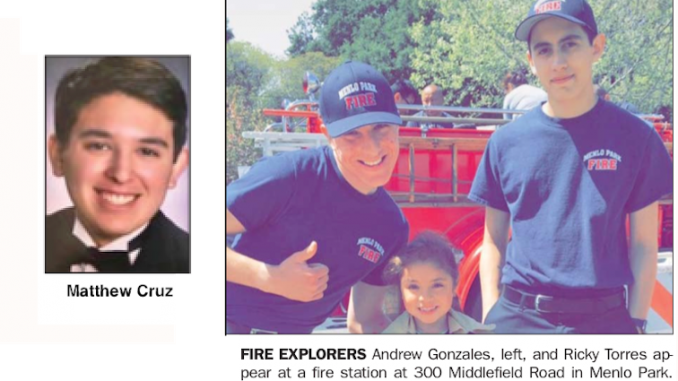 BY EMILY MIBACH
Daily Post Staff Writer
When three young men didn't come home from a trip to the coast, their fathers and a brother started searching. And within hours they found the men's crashed car off of Skyline Boulevard with their bodies inside, a fire official said yesterday.
"These aren't kids who don't come home or don't answer their phones, so when no one heard from them, they knew something was wrong," said Menlo Park Fire Chief Harold Schapelhouman. "And (the families') worst nightmare came true."
The two fathers and brother located their car with a cellphone tracker. They got to the edge of Skyline Boulevard and looked down an embankment, where they saw a crumpled 2010 Hyundai on Wednesday morning.
Inside were the bodies of Ricardo Torres, 19, of Redwood City; Andrew Gonzales, 18, also of Redwood City, and Matthew Cruz, 18, of Menlo Park. The three graduated together this spring from Menlo-Atherton High School in Atherton.
After first responders arrived and got the boys' bodies out of the car, the two fathers and one brother asked county Coroner Robert Foucrault to give them a moment to say goodbye.
"Part of the job is to be caring and compassionate," Foucrault said. "So we made it so they could say goodbye to their loved ones in a dignified matter."
It's unusual for relatives to say goodbye at an accident scene, Foucrault said. Usually the family isn't on hand after an accident and the coroner will attempt to contact the victim's next of kin back at the office.
Returning from a trip to the coast
The three teens went to Half Moon Bay on Tuesday to look at a car for Gonzales, according to Foucrault.
Residents near the crash location said they heard what sounded like an accident at about 10 p.m. Tuesday. The two fathers and one brother discovered the car on Wednesday morning just after 7 a.m.
The young men had grown up together, graduated high school together and their families were close, Schapelhouman said. They even vacationed together, the chief said.
"They were going places in life," Schapelhouman said.
Two planned to become firefighters
Cruz had been pursuing a career in computer programming while Gonzales and Torres were working toward their goal of becoming firefighters by working with the fire district as explorers, according to Schapelhouman.
The explorers program helps educate young adults about a career in fire services, something Torres may have known a bit about before enrolling in the program. Torres' father, Rudolfo Torres, is a mechanic for the fire district.
What caused the crash is still under investigation, but CHP Officer Art Montiel said that it appears that the car was speeding. All three men were wearing seat belts, Montiel said.
Authorities are awaiting results of tests to determine if alcohol or drugs were involved, but Foucrault said there was no evidence in the car of that.