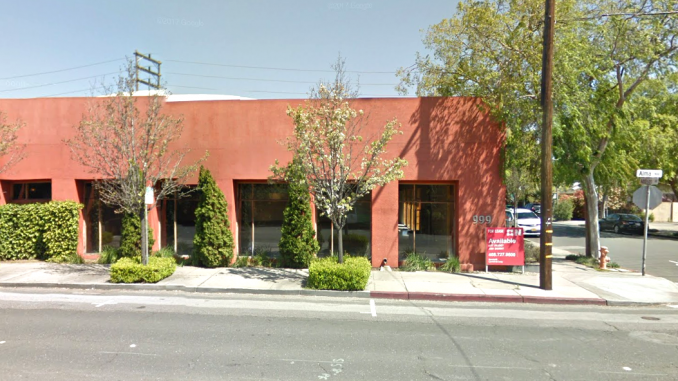 Above is the former Anthropologie store at 999 Alma St. Google Streetview image.
BY ALLISON LEVITSKY
Daily Post Staff Writer
An eight-month-old requirement for Palo Alto developers to rent ground-floor space to retailers has received its first two instances of push-back. Two developers have asked the city to waive the rule, claiming their properties won't support retail uses.
City Council is set to consider the requests at meetings this week.
On Monday (Nov. 6), council will hear a request about 425 Portage Ave., the former site of Pet Food Depot, and on Tuesday (Nov. 7), it will consider
a request about 999 Alma St., the former site of women's clothing and home decor chain Anthropologie.
A temporary version of the retail preservation ordinance was approved in May 2015. On March 20 of this year, the permanent ordinance was passed, forcing property owners to lease to retail outlets or prove to the city that they're not able to. Applicants are also required to show the city that the alternative use they propose will encourage "active, pedestrian-oriented activity and connections."
On June 29, Boyd and Lund Smith of D&B Properties requested a waiver, claiming they were offering the building at 425 Portage Ave. at 60% to 75% below city market rents.
Council considered the Smiths' request on Aug. 14, but opted to pull it from the consent agenda to have a public hearing. The Smiths didn't state how
they would want to use the building instead, but Planning Director Hillary Gitelman said she thought it would likely be used for warehouse or storage.
On July 6, Robert Wheatley and Christian Hansen, of Alma Street Partners, wrote to Assistant Planning Director Jonathan Lait that they had been struggling to lease 999 Alma St. since the beginning of last year.
The developers are requesting to use 5,000 square feet for their offices, leaving the other half for retail space along the Alma Street frontage.
Anthropologie left the building for Stanford Shopping Center after renting the 10,000-square-foot space at 999 Alma since 2001.
"Anthropologie's move was not a surprise because this building is separated from the Palo Alto retail core," Wheatley and Hansen wrote.