BY ALLISON LEVITSKY
Daily Post Staff Writer
Mountain View City Council voted last night (March 19) to ban RVs from parking on city streets while opening up 20 or so parking spaces at the Shoreline Amphitheatre for a one-time, four-month period starting in November.
A second parking lot for which the city is currently negotiating will also be made available for vehicle-dwellers, the council decided. In December, police counted 290 inhabited vehicles on city streets, 192 of which were RVs and nine of which were non-standard vehicles, such as box trucks and buses.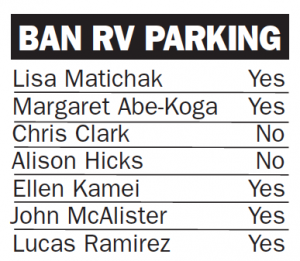 Exceptions for the ban include vehicles parked next to their home or business, government vehicles, utilities, emergency vehicles and vehicles bearing a disabled placard. The ban won't take effect until after council revisits it at a future meeting, at which point the council will set a timeline for implementation.
The council also approved $551,000 for police enforcement, $250,000 for housing and safe parking and $32,000 for waste management. Churches and other nonresidential property owners will be able to more easily apply for a permit to allow vehicle dwellers to sleep in their parking lots. City officials will come back with a new ordinance outlining certain requirements for RVs to park in city lots, which will require them to register and meet with a case manager.
In a separate, unanimous motion, the council voted to declare a shelter crisis and pass a new ordinance allowing police to ticket vehicles that "discharge domestic sewage on the public right of way."
Campers plead with council
Council members Chris Clark and Alison Hicks both voted against the main motion to ban RVs citywide, which came after dozens of residents — some car- and RV-campers themselves — pleaded with the council not to push out RVs.
Art McGee said he came to Mountain View to care for his grandchildren, and an RV was the only housing he could afford here.
He and other RV-dwellers on Latham Street relied on each other as neighbors until RVs were suddenly banned from that street in October 2017.
"I'm not a drug dealer, I'm not a pervert, I'm not a child molester. I'm just not a homeowner. But I am human, and a lot of people here treat me as though I'm not. I don't feel homeless — I like my RV," Magee said. "Some people assume that we're all criminals. And there may be some criminals living in the RVs. I don't know — I haven't met any of them."
Jack Baker, a disabled Foothill College student from Redwood City, said they had been homeless in the Bay Area since age 17.
For the last two years, Baker has lived in Mountain View without stable housing in order to be close to school.
"This is our home. We're not trying to litter in your streets," Baker said. "We're not trying to make them unsafe. We're just trying to live like everyone else."
Moved by the testimony, Milk Pail Market co-owner Steve Rasmussen spontaneously announced that he would donate $10,000 to the Community Services Agency, which serves the homeless in Mountain View.