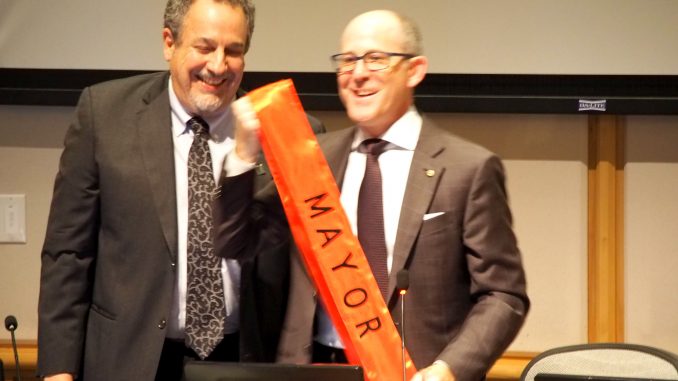 BY ALLISON LEVITSKY
Daily Post Staff Writer
Longtime progressive activist and community organizer Lenny Siegel, who served as vice mayor of Mountain View last year, won his City Council colleagues' unanimous support last night (Jan. 9) to serve as mayor for 2018.
Siegel has long championed housing construction in Mountain View, which has led the pack on the mid-Peninsula in its approval of housing projects and demands of large companies to build housing to accommodate large numbers of new employees.
Siegel's council service grew out of his work as the founder of Balanced Mountain View, which advocates for correcting the jobs-housing imbalance, with an emphasis on sustaining the community's diversity and quality of life.
He's the executive director of the Center for Public Environmental Oversight, attended the Democratic National Convention as a delegate for Sen. Bernie Sanders in 2016 and organized a rally in support of equality and diversity when a group of alt-right activists planned to march at Google in August.
Siegel also led the charge on Mountain View's favorable attitude toward allowing cannabis businesses in town.
"While in many ways we are the envy of cities across the country and around the world, we face the daunting, inseparable twin crises of traffic, local and regional, and housing costs and availability," Siegel said in a speech following his election. "I am proud to say, though, that Mountain View is leading the Bay Area in confronting these problems."
Housing progress cited
Siegel touted the city's plans for medium-density, mixed-use neighborhoods near jobs and transit, increasing the required amount of affordable housing market-rate housing developers must build from 15% to 20%, and the city's new rent control program.
Siegel also spoke about his hopes for the city to complete the East Whisman Precise Plan and to start planning for the Terra Bella or South Bayshore area, as well as affordable housing developments on Lot 12, a city-owned parking lot at Bryant and California streets, and elsewhere.
He also suggested the city adopt the proposed employer tax, an expansion of the city's business license tax, and public-private partnerships to fund the proposed automated, elevated guideway — a driverless transit system — that would link downtown with North Bayshore as well as fixed, elevated transit along Highway 85.
"New transit would serve, among others, some of the richest corporations in the world, and it's my intent to seek their help in making speedy, convenient, advanced transit a reality," Siegel said.
Last month, the council approved an update to the precise plan that requires Google to build 9,850 homes in exchange for being allowed to expand its office space by 3.6 million square feet.
Treats others with respect, kindness
"He treats everyone with respect and kindness. He does a lot of behind-the-scenes work that's very important to support Mountain View both regionally and also nationally," Councilwoman Pat Showalter said after nominating Siegel. "He understands that balancing the views of everybody is really what leads to action, and that's what makes Mountain View so special."
Councilwoman Lisa Matichak was unanimously elected vice mayor following a nomination by Councilman John McAlister and a second from Councilwoman Margaret Abe-Koga.
The former planning commissioner sits on the Moffett Field Restoration Advisory Board, the Transportation Subcommittee and the Santa Clara Valley Water Commission.
Choked up with emotion, Councilman Ken Rosenberg gave a final speech as mayor, reminiscing about the 418 meetings, including 73 weekend meetings, that he participated in this year.
A call for resistance
He recalled his distress at planning for the city response to the planned alt-right August protest at Google.
"We live in an era where local cities like Mountain View have to organize and resist our federal government. It is a shame that this is happening," Rosenberg said. "Whether or not you supported Trump in the election, this happens for a reason."
Siegel echoed the sentiment in his own speech.
"We are a leader in the way our city government operates. We are a leader in working to solve our regional housing and transportation challenges," Siegel said. "We are a leader in resisting retrograde, federal policy. And we are a leader in working together. Let's keep it that way."