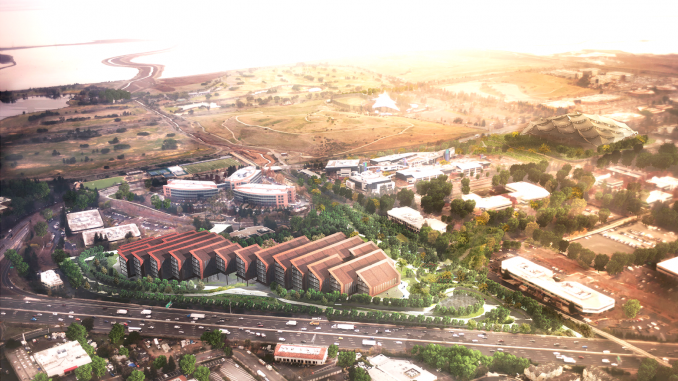 BY SARA TABIN
Daily Post Staff Writer
Mountain View City Council is fine with Google's plans to build an office building as large as 40 Midtown Safeways on Landings Drive.
The new Google campus, a 799,482-square-foot "shed-like" building with large glass windows, will be located south of Charleston Road and north of Highway 101. A 536,500-square-foot parking structure with ground-floor retail space will be located between Alta Avenue and Huff Avenue.
The two properties will be connected by a pedestrian and bicycle path that will bridge Permanente Creek.
Council gave its support to the plan during a study session Tuesday (Oct. 1).
City Manager Dan Rich said Google is offering the city community benefits valued at $42 million in exchange for permission to build the new campus. These include a new children's park, money for improving transportation and funding for homelessness services.
But the tech giant hasn't been entirely generous with the city.
In February 2018, Mountain View agreed to pay Google $28 million for 77,776 square feet of land at the intersection of Plymouth Street and North Shoreline Boulevard, not far from the Landings project site, so that the city could build an intersection to improve traffic.
Council talked about the deal in a closed session on Sept. 3, but no changes have been announced.
When asked whether the Plymouth property could end up as part of Google's community benefits package, Rich would only say that idea wasn't discussed at last week's council meeting.
Councilman John McAlister asked if any housing might be brought to Shoreline, including on the land that the city is acquiring on Plymouth.
Aarti Shrivastava, community development director, told him that the council will be looking at possible housing projects in the future.
McAlister said that in terms of community benefits, he would rather have Google open up land for housing or parking lots for people who live in RVs than give the city money.
The Mountain View Police Department found 298 vehicles being used as homes during a study they conducted in July. Of these, 207 were RVs.
Google's new campus will include some public green space.
Drew Wenzel, a real estate developer for Google, said the current offices at the Landings location are surrounded by parking areas. Since most of the parking for the new campus will be at the new parking garage between Alta and Huff, Google wants to turn the the existing parking lots at Landings into green space.
Google has also reduced the employee-only area of the property to create more public access. Their original proposal allowed for about a third of an acre on the new campus that was open to the public. Now, the public will have access to about 3.4 acres of bike paths and green space.
In order to have enough room for public space and a secure facility, Google is leasing land on a long-term basis at 1851 Charleston Road. The company anticipates this land will give it more building flexibility.