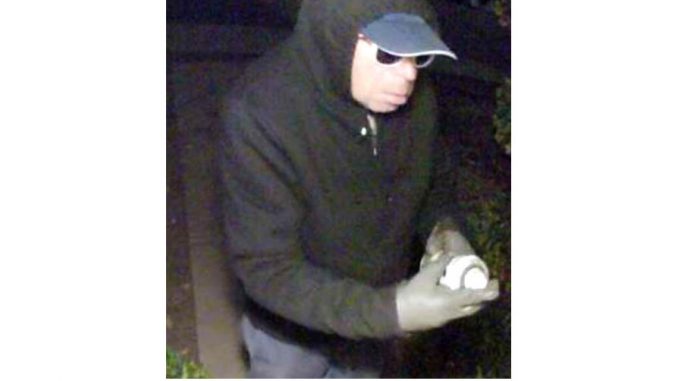 BY ALLISON LEVITSKY
Daily Post Staff Writer
Tenants rights activist Job Lopez was sentenced yesterday (March 20) to two years' probation and 80 hours of community service for stealing and spray-painting campaign signs supporting former Mountain View Mayor John Inks, who opposed the city's two-year-old rent control law.
Lopez, 74, pleaded no contest yesterday and was ordered to stay away from the house at 120 Church St. where he was caught on camera vandalizing and stealing signs.
Prosecutors had sought 240 hours of community service, Deputy District Attorney Tamara Cool said. Instead, the sentence was 80 hours.
Lopez didn't make a statement in court and declined to comment on his sentence to the Post. A restitution hearing is scheduled in the case for next month.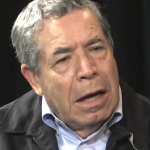 The house's owner, Saratoga real estate agent Debbie Shin, missed the hearing because she had emergency eye surgery yesterday. She told the Post that she wanted Lopez to have to pay for her camera along with a five-year subscription to the service.
"He had stolen the signs so many times that I ended up getting the camera just to catch him," Shin said.
Shin said her Inks campaign signs kept getting stolen by a thief who she suspects was Lopez. Eventually she bought a Kuna security camera for her front porch and hung the sign on her front door, to tempt the thief to get close to the camera.
When she told a Kuna employee about her success in catching a thief, they asked her if they could use the video of Lopez for marketing.
"I might pursue it," Shin said. "I don't even know if it's legal to put it in an ad."
Inks said the vandalism hurt his campaign
Inks came in last place in the November election and told the Post that he felt his council bid had been harmed by Lopez's vandalism.
"The fact of the matter is, he smeared my campaign and he trashed the hard work and financial support I had from volunteers and donors," Inks said. "In civil society when we have disagreements … at least around here, you don't resort to criminal activity, and he did."
Inks still suspects that Lopez was behind the black spray-paint defacing his signs elsewhere in the city. Lopez was recorded using black spray-paint on the sign at Shin's house.
Newspapers stolen from racks
And Inks supporters say they believe someone threw out dozens of copies of the Daily Post in Mountain View on Oct. 22, when a screenshot of Lopez from the security video was printed on the front page with the headline "Cops identify sign vandal."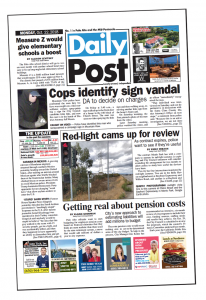 That morning, Mountain View resident Craig Lazo took photos of more than 25 copies of the Post that he found in a trash can at Landels Elementary School, which is within half a mile of Lopez's house on McCarty Avenue.
Lazo said he pulled the papers out of the garbage and put them back in Daily Post boxes on Calderon Avenue at Church Street and at El Camino Real, which appeared to have been emptied.
Lopez's campaign sign theft and vandalism was "all about rent control," Inks said. It's obvious that the program has divided tenants activists like Lopez and Inks' supporters.
Shin claimed that as a landlady, her distress over the city's rent control program had led her to go blind in one eye.
"My eye hurt every time I talked about Measure V," Shin said, referring to the 2016 ballot measure that ushered in rent control. "Then one day I couldn't see out of it."
Shin said the program was making it difficult for her to evict tenants at 120 Church St.
"I worked my whole 20s for this property," said Shin, 64. "Because I'm self-employed, it was my retirement."
Inks noted the strangeness of a septuagenarian getting probation for vandalism.
"Job is understandably a passionate activist for renters' rights. I applaud him for that," Inks said. "What he did here was just, you know, over the top. And it's a funny thing, too, because he's 74 and I'm almost 70 myself — two old guys involved in this."
It wasn't known yesterday exactly how he would perform his 80 hours of community service. One option is the Santa Clara County's Weekend Work Program, which sends low-level offenders to work for agencies such as the city of San Jose's roads or parks departments, the county Roads and Airport Division, the county Parks Division, Caltrans and various baseball Little Leagues.