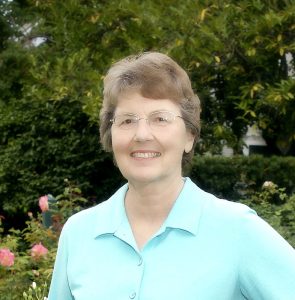 May 30, 1934 – February 11, 2019
Barbara Jean Pavkovich (nee Luebke) died peacefully at home on February 11, 2019 of congestive heart failure. She was surrounded by her family when she passed.
Barbara was born in Chehalis, Washington on May 30, 1934. She grew up in the Boistfort Valley, which is west of Chehalis. Her parents ran the general store at Klaber, which doubled as a post office.
She graduated from Boistfort High School in 1951 and then attended Oregon State University, where she graduated in 1955 as a Medical Technologist. She worked a short time in Portland, Oregon and then moved to California. She worked at the Palo Alto Medical Foundation starting in 1957. She met John, her husband of 58 years, in Palo Alto and they were married in 1960. She retired in 1968 when daughter Sioux was born.
Barbara enjoyed gardening, traveling, and being a homemaker. She was quite active at Menlo Church, where she helped host choir Christmas dinners and events for seniors for many years.
She is survived by her husband John; her children, Sioux and David, who are local; and her brother Robert, of Ennis Montana.
A Memorial Service will be held at Menlo Church in Menlo Park, CA at 2:00 PM on Friday, March 1st. In lieu of flowers, donations can be made to Menlo Church, Mission Hospice in San Mateo, CA, or to the charity of your choice.