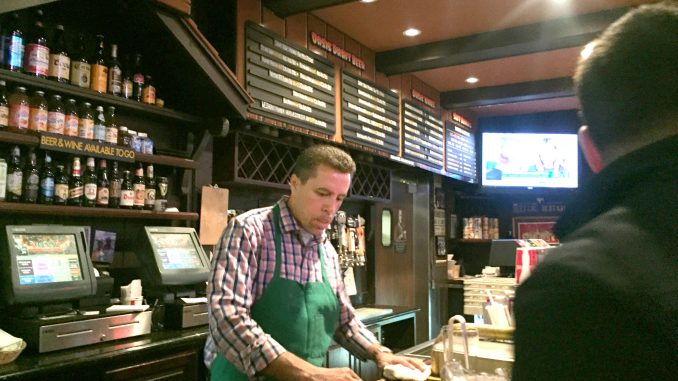 BY EMILY MIBACH
Daily Post Staff Writer
The building that used to house the Oasis burger joint has a new owner who is willing to enter into a lease with a restaurant operator.
The building at 241 El Camino is for lease, Realtor Allison Ding confirmed yesterday (Feb. 13). The original setup of the restaurant is still intact.
The property was sold last year by the Beltramo family, who had owned it since 1920. Oasis closed before the sale in a lease dispute with the Beltramos.
County records show that the Beltramo family sold the building to Atherton-based HuHan Three LLC. However no names were attached to the LLC in county documents.
The building sold for about $8.5 million.
HuHan Three LLC is looking to lease the Oasis as a restaurant at the rate of $3 to $4 per square foot a month. This means the renter would pay between $10,200 to $16,000 a month plus all costs related to the building such as property taxes and utilities under a triple net lease.
The building is 3,400 square feet, with a 600 square-foot patio.
The owners are willing to offer either a long- or short-term lease, and to help with any improvements needed.
"That site and its history means a whole lot to people in this town. I sure would love to see the Oasis resurrected," said Mayor Ray Mueller, who attempted to revive the Oasis after it closed last year.
The old Oasis building could be designated as historic, but that process would have to be started either by the city's planning commission recommending that the council designate the building as a landmark, or by the landowners.
Historic past
The building was built by the YMCA as part of Camp Fremont in 1917 to train the National Guard units during World War I. When Camp Fremont was abandoned after the war, it was auctioned off and bought by the Beltramo family. They moved the building from its former home on Santa Cruz Avenue to 241 El Camino Real, where it's been for the past 97 years.
After Prohibition ended in 1933, the family started the Oasis, and leased the operation of the restaurant in 1939, according to a city report on the historical standing of the building.
The new owners of the building also own the properties next to the Oasis, at 201 El Camino and 612 Cambridge Avenue. HuHan Two LLC wants to build a 38-foot tall building on the other properties that would consist of 15 apartments on its second and third floors and 7,948-square-feet of retail and office space on the first floor, according to project plans submitted in July.
That project has not been reviewed by the city's planning commission yet.