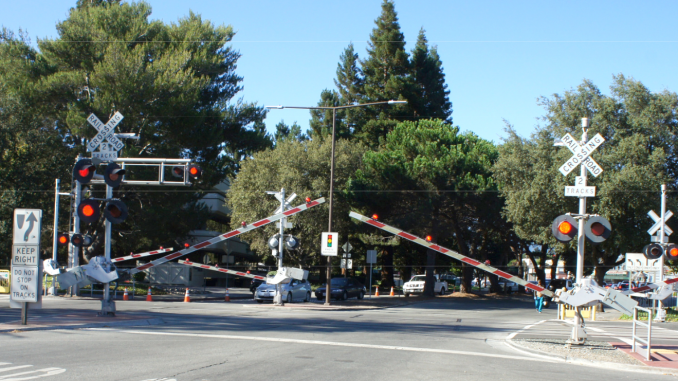 BY EMILY MIBACH
Daily Post Staff Writer
The Menlo Park City Council last night (Jan. 15) effectively reversed the previous council's decision to build only one bridge for Caltrain in town and instead build three.
The four present council members last night redirected Senior Transportation Engineer Angela Obeso and her colleagues to focus on having three train bridges built at Ravenswood, Oak Grove and Glenwood avenues. Mayor Ray Mueller was absent.
All council members appeared adamant that three grade separations, as the bridges are called, are needed in the city in order to keep traffic on all three roads manageable, and not just push it all onto Ravenswood, where cars would not have to stop for the train.
However, Planning Commissioner Henry Riggs pointed out that the three-bridge option, where the three avenues would be lowered under the tracks, would cause massive traffic delays for the four to five years that the bridges would be under construction.
But councilwoman Catherine Carlton, who along with Mayor Ray Mueller, has long advocated for the three-bridge option, and said the choice will pay off in the long run.
Holding your nose
"It's a huge decision and impact, but sometimes you have to hold your nose and say yeah, it will be inconvenient for a while, but the benefits will be tremendous," Carlton said.
The last council in May voted 3-1-1, with Mueller dissenting and Carlton abstaining, to go with just building the bridge at Ravenswood.
One of the main reasons why the previous council voted for the one-avenue option was because of cost, said Obeso.
Just building one crossing will cost between $140 million and $190 million, while crossings at all three avenues would run between $280 and $380 million.
However, some residents, such as Katie Behroozi and Adina Levin, pointed out that Menlo Park's rail corridor is named on the state's list of areas that need to be grade-separated, meaning the city may be able to apply for a wider range of grants to pay for the project.
Tunnel 'pipe dream'
Last night, the council also buried the city's long-held dream of having a tunnel through the city.
"It's a wonderful pipe dream, it's not feasible and we should not pursue it," said councilwoman Betsy Nash.
The rest of the council agreed, and ditched going after the tunnel.
The council will formally vote on the redirection of the grade separations sometime next month.