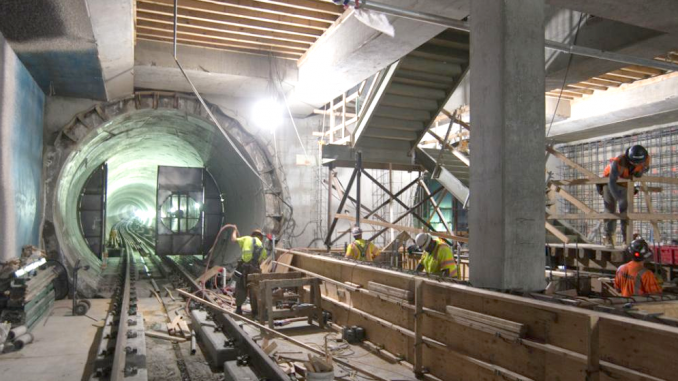 BY EMILY MIBACH
Daily Post Staff Writer
With San Francisco getting a train tunnel in Chinatown and San Jose getting a BART tunnel, some Mid-Peninsula residents might be wondering, where's our tunnel for Caltrain? Unfortunately, it sounds like the tunnel will not be happening.
Caltrain CEO Jim Hartnett and Chief Communications Officer Seamus Murphy in an interview with the Post yesterday laid out some of the logistical issues surrounding getting a tunnel for Caltrain that runs from San Francisco to San Jose.
"First of all, take the guesstimates for how much a tunnel would cost for Palo Alto and then multiply it out for 52 miles of track," Hartnett said.
Palo Alto looked into digging a citywide tunnel for the tracks, but that would likely cost between $3.3 billion and $4 billion to go the roughly four miles north-south through the city.
A San Francisco to San Jose tunnel, by Hartnett's math, would then cost at least $52 billion, but likely more as it's possible that in digging out the tunnel, issues such as PG&E easements and underground utilities could get disturbed.
A land issue
Hartnett pointed out that Caltrain, unlike Bart in San Jose or Muni in San Francisco, already has the railroad track and right of way to run trains, thus cutting down on the need for Caltrain to tunnel.
Murphy also pointed out that the cost of buying land in San Francisco to extend the train tracks above ground would have been just as, if not more, expensive than tunneling.
The BART to San Jose project has cost $4.7 billion, with $1.5 billion of that will come from Measure B funds, passed in 2016. An additional $1 billion came from a sales tax passed in 2000.
The Chinatown tunnel has cost $1.6 billion.
A second tunnel in San Francisco is in the early stages of planning — which would bring Caltrain from its stop at Fourth and King streets to the Transbay Terminal.
Rail crossings
The Caltrain tracks intersect 42 streets at street level up and down the Peninsula, including Palo Alto Avenue, Churchill Avenue, Meadow Drive and Charleston Road.
Cities along the Caltrain line are grappling with its options for how to separate the tracks from the street in order to prevent frequent traffic jams when Caltrain, and eventually high-speed rail, zips through as often as every three minutes during peak times.
However, separating the tracks from the road will not necessarily be required for high-speed rail to begin, the officials said. But it will require some upgrades at some crossings, such as adding quad-gates.