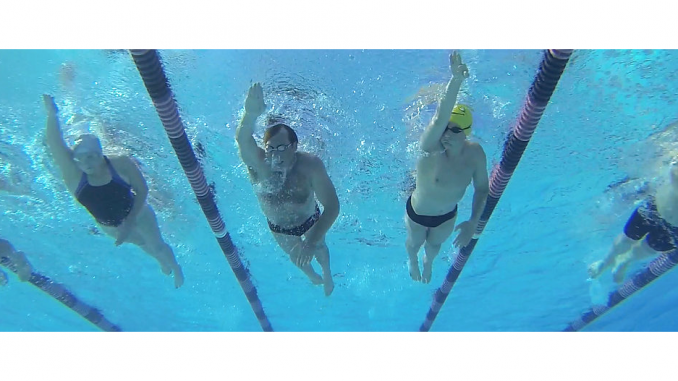 BY ALLISON LEVITSKY
Daily Post Staff Writer
After an outcry from swimmers, the Rinconada Masters adult swim club will get to keep training in the Palo Alto pool they've used for 45 years under a subcontract between the club and Tim Sheeper, the pool's new manager.
City Council voted unanimously last night (Dec. 10) to approve a five-year contract for Sheeper to continue operating Rinconada Pool. Sheeper had planned to boot the club out of the pool to start his own masters team, but after swimmers spoke out at several council meetings, he apparently had a change of heart.
Swimmers attended several council meetings to speak out against the proposal, including several who had swum at Rinconada for decades.
Rinconada Masters Head Coach Carol MacPherson, who founded the club in 1973, learned to swim at Rinconada at age 7. Edie Gellis, an 82-year-old Stanford historian, has been swimming with Rinconada Masters for 35 years.
"We are a purpose and principle-driven company and we make all of our business decisions based on our company core values," Sheeper said at council last night. "Our main goal in moving forward, if we're able to move forward, is just to build on this strong aquatic community that is already here in Palo Alto."
Contract details
Under the contract, Sheeper will manage the pool under a revenue-sharing agreement. He will pay the city 1% of his revenue of up to $1.25 million per year.
If use of the pool brings in between $1.25 million and $1.5 million, the city gets 2%, and between $1.5 million and $1.75 million, the city gets 3%.
If Sheeper makes more than $5 million in a year, the city gets 12% of the revenue.
Sheeper will also have a subcontract with the Palo Alto Stanford Aquatics, a youth swimming organization that also submitted a proposal to operate Rinconada.
The city hired Sheeper to take over the management of the pool in August 2017.
Since then, Sheeper has increased the number of pool users and the number of hours of swimming available, as well as the months that the pool is open.
Swim camp
Sheeper also launched a summer swim camp last year and more than doubled the camp's attendance this year.
He also runs Team Sheeper, a company with 130 year-round employees, which already provided swim lessons and summer camps at Rinconada and triathlon training at Menlo Swim and Sport.
Several lap swimmers, who don't train with the Rinconada Masters, raised concerns last night about the fact that the contract only included a pool schedule for January.
Kristen O'Kane, chief operating officer of the Community Services Department, said Sheeper and city leaders would work out the schedule quarterly, and didn't want to include the hours in the contract in case something changes.
The city can also terminate the contract with 90 days' notice.