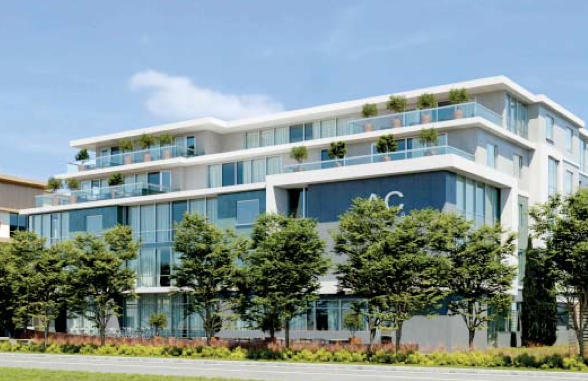 This is a view of the proposed AC by Marriott in Palo Alto from San Antonio Road.
Image courtesy of T2 Hospitality.
BY JEN NOWELL
Daily Post Staff Writer
Palo Alto City Council approved a proposal last night (June 12) to build two new five-story hotels, despite stringent opposition from neighbors over fears that they would aggravate traffic problems.
Residents told council last night that the traffic on San Antonio Road is already a nightmare. Warren Storkman said his 90th birthday is next month, and he pleaded with council to give him a present by not approving the hotels planned for 744-748 San Antonio Road.
But council voted 8-1, with Councilwoman Lydia Kou dissenting, to approve the project.
Mayor Greg Scharff said he believes the hotels will bring less traffic than is anticipated. Hotels along San Antonio Road will relieve congestion in other parts of the city by preventing people from having to drive through the city to get to other hotels, he said.
Hotel operator T2 Hospitality, whose CEO and founder is Mike Patel, wants to build a 151-room Courtyard by Marriott and a 143-room AC by Marriott near the intersection of San Antonio and Middlefield roads. Both buildings would be nearly 50 feet tall.
Parking
The initial plan was to have two levels of underground parking, but last night the developer told council that only one level was needed. The new plan is to use a stacking system, which typically requires one car to pull in and then be raised up, so another car can then park underneath.
Following public comment, Councilman Adrian Fine immediately made the motion to approve the two hotels, saying the project meets all of the city's zoning rules.
He said he hears a lot of people saying this is their neighborhood and he gets that, but he added that this area makes sense for a hotel.
Councilwoman Karen Holman said that Fine's swift move to make a motion ended the council's "deliberative process." Holman added that if she were a member of the public she would be appalled.
Employee housing
Holman raised the idea of converting some of the hotel rooms to housing for hotel employees.
Mont Williamson, of T2 Hospitality, told her that a few years ago that could have been a part of the discussion, but the license under Marriott doesn't allow for a mixed-use such as that. Plus, he said he doesn't know whether you could find people who would want to live in a single hotel room.
Vice Mayor Liz Kniss spoke to those who said they preferred housing on the site, saying she called for housing there, but council voted that this wasn't the area for it and moved to have more housing closer to the downtown area.