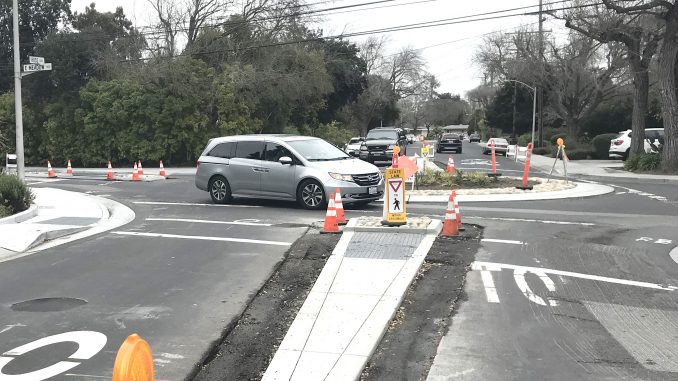 BY ALLISON LEVITSKY
Daily Post Staff Writer
The city of Palo Alto has made some slight changes to its plans as hundreds of residents have signed a petition calling for a stop to the traffic-calming project on Ross Road, which includes roundabouts.
The city is making minor adjustments to the locations of curb extensions and is adding new drainage structures to avoid underground utilities, city spokeswoman Claudia Keith told the Post.
"We are aware of the petition signed by a number of residents regarding the changes to Ross Road," Keith said. "The city has received numerous communications about the project both in favor and opposed to the changes now under construction."
More than 650 people have signed a petition to stop the project, claiming the changes have begun to create "dangerous interactions" between cars and bicycles. The changes also impede the safe travel of emergency vehicles, petitioners said. Keith didn't say where the curb extension locations were.
"The Ross Road project is one piece of a larger effort to improve the city's bicycle network as we look to reduce traffic, improve safety and expand the regular use of bikes for travel around Palo Alto," Keith said.
The Neighborhood Traffic Safety and Bicycle Boulevard Project spans 7.1 miles and will cost $8.7 million.
It includes 11 roundabouts, three raised crosswalks, five raised intersections and four intersection reconfigurations.
Phase 1 of the project started in September along Ross Road, with other traffic-calming measures planned on Bryant Street, Louis Road and Moreno, Amarillo and Montrose avenues over the next six months.
A roundabout was built on Ross Road at East Meadow Drive in December.
"We recognize that the construction has been disruptive and the overall goals of slowing traffic, providing more visibility for bike riders and filling gaps in our bike network are not yet fully realized," Keith said. "We are planning to conduct more concentrated outreach, including a survey, one-on-one notifi-cations and meetings, as well as updated information and communication on the project website."