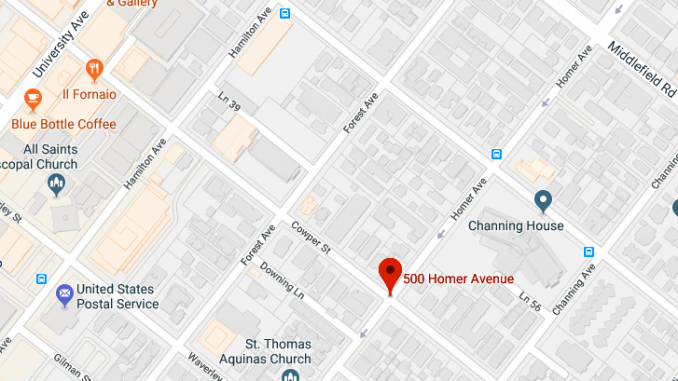 By the Daily Post staff
Police are looking for a gunman who robbed a pedestrian of his wallet and cellphone last night (March 10) in the 500 block of Homer Ave. in Palo Alto, across the street from the Channing House retirement home.
At 10:50 p.m., the victim was walking east on the north sidewalk of Homer when the robber came up from behind him and demanded his wallet, according to police. The victim tried to run east on Homer, but the robber caught up with him and pushed him to the ground.
"The suspect stood over the victim, placed a handgun to the victim's forehead, and again demanded his property," a statement from police said.
The victim gave the robber his cellphone and wallet, police said. The robber went running west on Homer. The victim, who suffered minor abrasions from being pushed to the ground, went to a friend's house to call 911.
According to police, the victim described the robber as a black or Hispanic male in his 20s, about 5 feet tall with a thin build. He had a white and red bandana over his face, a white and red baseball hat, a dark-colored jacket and loose fitting blue jeans.
Palo Alto police said this is the city's first armed street robbery in 2018.
Anyone with information about this incident is asked to call police at (650) 329-2413. Anonymous tips can be e-mailed to paloalto@tipnow.org or sent via text message or voice mail to (650) 383-8984.