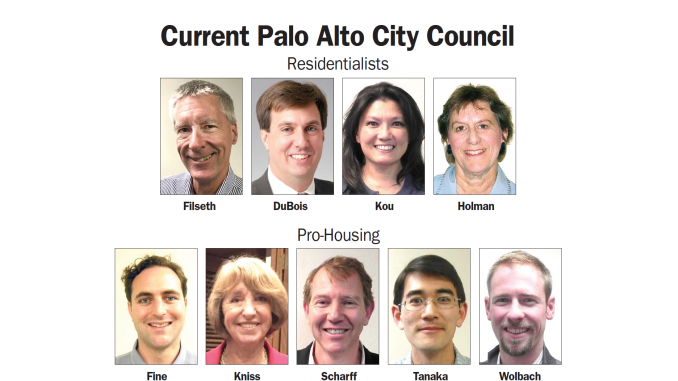 BY ALLISON LEVITSKY
Daily Post Staff Writer
Palo Alto City Council made strides last night toward encouraging denser housing development in town, with fewer parking spaces and more roof decks to serve the purpose of open space.
The purpose of the zoning changes is to try to make it easier and more economical for developers to build housing, hopefully making rents more affordable by adding to the city's housing stock.
Council voted unanimously, with Councilman Greg Tanaka absent and Vice Mayor Eric Filseth and Councilwoman Karen Holman recusing themselves, to approve a set of changes to the zoning code that apply to the neighborhoods zoned for apartment and condo buildings.
Neighborhoods that allowed 15 housing units per acre will now allow 20. The changes also establish minimum densities, requiring lots that accommodate 20 units per acre to have no fewer than 11, and lots that allow 30 units per acre to have no fewer than 16. Lots that can have up to 40 units per acre will have to have at least 21.
In those districts, it will be illegal to tear down a duplex and replace it with a single-family home, which would constitute a net loss of housing units.
Another set of changes applying to the downtown area was approved 6-1, with Councilwoman Lydia Kou dissenting and Councilman Greg Scharff recusing himself. The changes do away with the rule limiting developers to building 40 residential units per acre downtown.
Instead, developers will have to keep their units to a maximum of 1,500 square feet per unit on average and to exempt the first 1,500 square feet of ground-floor retail from having to provide parking spaces in residential mixed-use buildings.
The rules also allow residential-only buildings to be built downtown. Previously, they had to include commercial development. And up to 75% of the open space that developers provide can be on a roof deck, rather than a backyard, courtyard or balcony.
The council also decided, for the next year, to bar commercial developers from covering their parking requirement by paying an "in lieu" parking fee to the city, which Filseth said had made parking scarce because those funds don't end up being used to build garages. The temporary ban will only apply to developments above the ground floor.