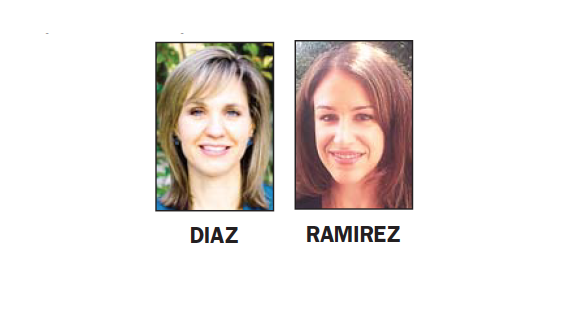 BY EMILY MIBACH
Daily Post Staff Writer
With little discussion, the Redwood City Council last night (Dec. 3) approved raises for its top two officials.
The raises come just a month after Redwood City voters approved Measure RR to increase the city's sales tax by a half-cent in order to help the city stay afloat while paying down its pension liability. Last night, the council voted 5-0, with Councilwomen Shelly Masur and Diane Howard absent, to approve a 5.8% raise for City Manager Melissa Stevenson Diaz and a 5% raise for City Attorney Veronica Ramirez.
Aside from Councilwoman Janet Borgens asking a question about the city's internal alignment process, where the city attempts to keep a 10% wage buffer between department heads and their employees, nobody on the council talked about the raises. And no members of the public went to the microphone to comment.
Stevenson Diaz's salary will go from $278,676 to $295,006. Ramirez's salary will go from $239,628 to $251,606.
Ramirez may also receive a $11,981 one-time bonus for "exceptional performance" during the year, according to a report from Senior Human Resource Analyst Laurel Blaemire.
Before the raises were proposed, council evaluated the performance of Stevenson Diaz and Ramirez. Also, their pay was compared to other cities, according to interim Human Resources Manager Derek Wolfgram.
Money needed for pensions
The half-cent sales tax, which was approved by 67.59% of Redwood City voters, was placed on the ballot by council after Stevenson Diaz told council that the city's payments to CalPERS, the state pension program, are expected to double in the next five years, plunging the city budget into a $12 million annual deficit.
The tax proceeds would go directly into the city's general fund and could be used by the police, fire, library and parks and recreation departments, which represent 80% of the city budget. Those departments would have to have their budgets cut if the tax didn't pass and the city was forced to shift more money into CalPERS.
With the passage of both Measure RR and SamTrans'Measure W, the city's sales tax will go up from 8.75% to 9.75%.