BY EMILY MIBACH
Daily Post Staff Writer
The Sobrato Organization's proposal to build 420,000 square feet of office space and 520 apartments on Broadway in Redwood City where CVS is now located will put 3,777 cars to the road each day, a newly released environmental report shows.
The additional cars will increase traffic on the already congested Highway 101-Woodside Road interchange nearby. Overhauling the interchange so it can handle more cars could take years.
The city's website says the interchange project is in the "design phase." The website says the interchange should be fully designed and funded by June 2020, with construction starting in late 2020 or early 2021. Construction is expected to take three to three and a half years.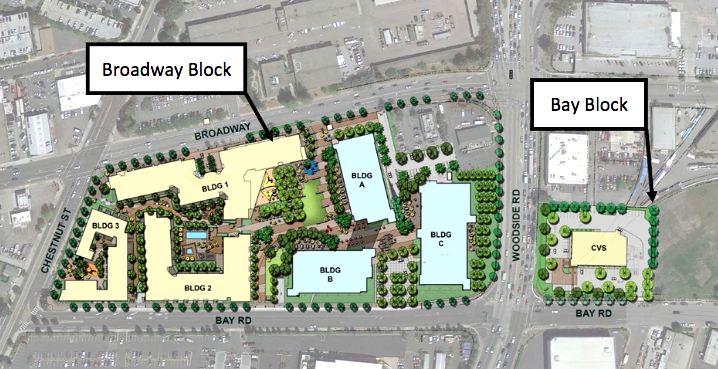 The cost of rebuilding the interchange has been put at $142 million.
According to the draft environmental report, Sobrato will have to pay its "fair share" for the interchange project, but it did not specify an amount.
The Jay Paul Company's office development at 320 Blomquist St., which will replace the old Malibu Grand Prix on the east side of 101, is expected to pitch in $10 million of the interchange project.
In addition to rebuilding the interchange, the draft environmental report — which goes to the city's Planning Commission on Tuesday (Dec. 4) at 7 p.m. — suggests a couple of other things Sobrado could do to reduce the traffic from its project.
One idea is to install a stoplight at Bay Road and 5th Avenue. That intersection is so congested it currently gets an E, or a failing grade, on an A-F scale. A stoplight will improve the situation to a B-level, the report said.
The other idea is for Sobrato to give up some of its property to widen Woodside Road, adding a third westbound through lane, a bicycle lane and a right-turn lane at the intersection of Bay and Woodside.
The development will add 1,600 to 1,700 jobs, based on the 420,000 square feet of new office space. However, the project only calls for 520 apartments. So it will worsen the housing-jobs imbalance.
The development also calls for a new CVS store to replace the one currently at that location.
Plans call for 2,038 parking spaces.
The project and the environmental report will be reviewed on Tuesday (Dec. 4), 7 p.m. at 1017 Middlefield Road.
A link to the Planning Department report on the development, the Draft Environmental Impact Report and the project's plans.