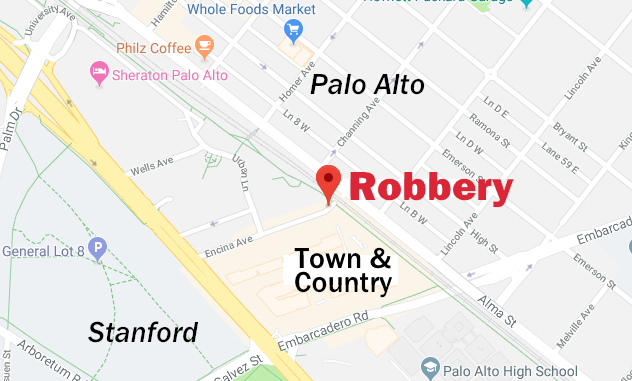 By the Daily Post staff
Three men are at large today (Nov. 24) after robbing a man who was walking along a bike path Friday night, police said.
At 8:14 p.m. Friday (Nov. 23), police received a report of a robbery that had just occurred on the bike path that parallels the Caltrain tracks, northeast of Town & Country Village Shopping Center and south of downtown.
Police said a man in his 20s was walking southbound on the path, and was texting on his iPhone, when three men approached him. One of them knocked him to the ground and repeatedly punched him in the face. The victim didn't see any weapons.
The robbers yelled at the victim to give them his iPhone and AirPods. They took the items and ran north on the bike path toward downtown.
An employee from a nearby business heard the victim yelling and found him on the path with a bloody face. The employee called 911, officers arrived and searched the area. Even with the help of a sniff-dog, police weren't able to find the trio.
The man was rushed to a hospital for treatment of lacerations and swelling to his face. He was later released.
Descriptions
The victim described the three robbers as Hispanic males in their 20s, all around 5 feet 9 inches tall and weighing 180 pounds.
Police are asking anyone with information about the robbery to call (650) 329-2413. Anonymous tips can be e-mailed to paloalto@tipnow.org or sent via text message or voice mail to (650) 383-8984.