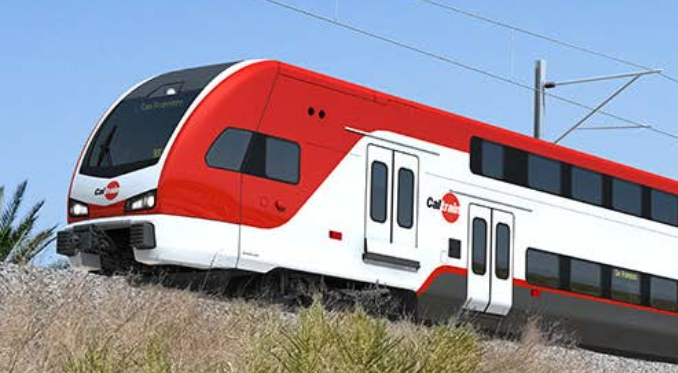 From staff and wire reports
Caltrain, which is eying a new tax in two years, is hosting a series of community meetings on a business plan to define the long-term vision of the commuter rail system that connects San Francisco, Palo Alto and San Jose.
Long-range demand for Caltrain service could increase by 300 percent, with 243,000 daily riders by 2040, according to a recent update provided to the Caltrain Board of Directors.
Caltrain is gearing up to put a one-eighth of a cent sales tax on the 2020 ballot in the three counties it serves, San Francisco, San Mateo and Santa Clara.
The sales tax would bring Caltrain about $100 million per year, providing a dedicated funding source that the agency currently lacks. Caltrain covers 70% of its costs through fares, with the remaining funds provided by the three counties. But in any given budget year, any of the counties can opt to pay less if they're having funding issues.
In January, Caltrain spokesman Seamus Murphy told the Post that the funds would go toward capital and maintenance needs. The conversion of the commuter railroad from diesel to electric has already been fully funded, but the agency still needs more money to replace the last of its diesel fleet to electric trains.
The money Caltrain has only covers 75% of the fleet, Murphy said.
Station improvements, including building longer platforms to accommodate longer trains and meeting ADA requirements could also be funded by the measure.
And Caltrain will be chipping in to separate the 42 at-grade crossings from the tracks, so that once the trains are electrified, traffic won't be held up at the gates. Each grade separation can cost between $150 million and $250 million, Murphy said.
The Caltrain Joint Powers Board approved the business plan's strategy and scope in February.
The community meetings are aimed to give the public an overview of the process and the opportunity to provide feedback.
They will be held:
• Tuesday (Nov. 13), from 6 to 8 p.m., at the San Mateo County Transit District Auditorium, 1250 San Carlos Ave., San Carlos.
• Wednesday (Nov. 14), from 6 to 8 p.m. at the Mission Creek Senior Center, 930 Fourth St., San Francisco.
• Nov. 26, from 6 to 8 p.m., at the Rose Garden Library, 1580 Naglee Ave., San Jose.