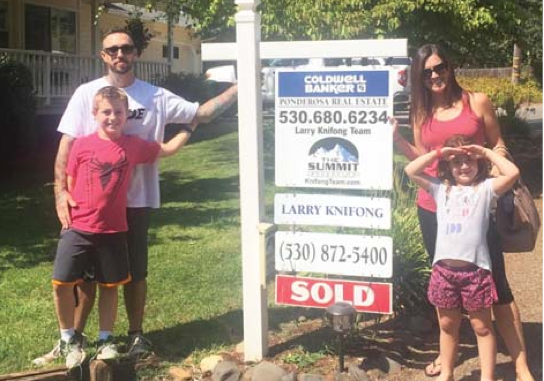 BY ALLISON LEVITSKY AND EMILY MIBACH
Daily Post Staff Writers
A retired woman and a young family of four — who both left the mid-Peninsula last year in search of a more affordable life in Paradise — have lost their houses and most of their belongings to the 90,000-acre Camp Fire.
Dianna Tomarchio Gartner, a 1999 graduate of Palo Alto High School, and her husband, Kyle Gartner, who grew up in Redwood City and San Carlos, bought their three-bedroom house in Paradise for $379,000 in September 2017.
Dianna, who taught in the Redwood City School District for 13 years, said that after moving between San Carlos, Redwood City, San Mateo and San Jose, Kyle put in for a job transfer with Cal Water so that the family could move somewhere that they could afford to buy a house. But along with the other three houses on their street, the Gartners' first home burned to the ground on Thursday (Nov. 8), leaving nothing behind but a safe.
Around 7:45 a.m., Dianna went to work at the Children's Community Charter School in Paradise, where her daughter and son are in first and fifth grades. She thought the school was far enough away from the fire that it would remain open.
"We got to school and they informed us that the fire was moving fast because of the wind," Dianna told the Post.
School leaders started telling kids not to come to school and sending kids home after they arrived. Dianna took her kids home while Kyle drove the 14 miles home from work in Chico.
Taking what's important
Around 8:30 a.m., in darkness from the smoke, the Gartners threw a change of clothes into their two cars along with their kitten and their two dogs, a Mastiff and a German Shepherd.
Through tears, Dianna said they didn't have time to grab any sentimental belongings, like photos or her children's hand-crocheted baby blankets. Only her daughter was able to grab her favorite stuffed animal.
Kyle and a neighbor tried to spray down the house with water as a family friend, a CHP officer, helped their neighborhood to evacuate.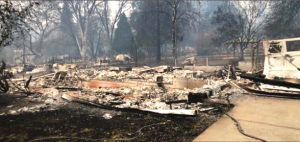 Then they started hearing neighbors' propane tanks exploding closer and closer to them — like bombs going off louder and louder — and knew it was time to go.
Dianna and her daughter took one car and Kyle and their son took the truck. But while driving separately, traffic crews directed them to take different routes to Chico.
Kyle ended up driving through the fire on Skyway, the main road down the hill which has since closed. "They made it out. Some people did not," Dianna said. The normally 20-minute drive to Chico took them almost three hours, Dianna said.
People were getting out of their cars and some were running out of gas going down the hill. The sky was pitch- black with smoke — Dianna could only see the car in front of her.
"People were driving really erratically," she said. "I was thinking, 'I'm not going to get in an accident in the middle of the fire.'"
The Gartners made it to Chico, where they are staying in Dianna's co-worker's Airbnb until Nov. 21. After that, they're not sure where they're going.
She expects it to be difficult to find accommodation in Chico, where so many Paradise evacuees are staying. It should be especially hard given the size of their family and their three pets.
"We're playing it one day at a time right now," Dianna said. "There are so many kids out there that have nothing."
Half of the kids' charter school has burned down, she said, noting that schools in Paradise will need support.
When people ask Dianna what her family needs, she said she doesn't even know how to answer.
"I need everything, every single thing," Dianna said. "We lost everything."
Her sister Gina van Kula, a nurse at Stanford Hospital, has set up a fund-raiser to raise money to help the Gartners rebuild their lives. The fundraiser at gofundme.com/paradise-fire-tragedy had raised more than $11,000 as of last night.
Former Redwood City resident Jayne Bryant said she saw the smoke when she woke up on Thursday, and said she went about her normal business because "we've had smoke before. You get complacent about it living up there."
10 to 15 minutes to leave
As Bryant got ready for the day, she got a knock on her front door from the RV park manager, telling her that she had 10 to 15 minutes to leave her home.
Bryant said people in Paradise should have gotten more of a warning than the 10 to 15 minutes many got.
"There's this picture taken outside of Chico at 7:30 a.m. They knew long before we did that something was going on. (The fire) looked like a storm coming in," Bryant said. "We got no warning from anyone."
Because there was little warning given in a largely retiree town, Bryant said she's really concerned that the death toll for the fires will go up.
"I can't even imagine how many old people couldn't and didn't get out. It's shameful that in a community of mostly seniors it went so long without an alert," Bryant said.
Bryant helped evacuate her neighbor, who otherwise wouldn't have been able to get out in time. She drove her neighbor to Chico, and the woman's caregiver came and picked her up.
During the typically quick drive to Chico, Bryant and her neighbor sat in traffic and watched as the area around them went up in flames.
"We were so close to the flames I could feel the heat," Bryant said. "I was terrified and the old woman was in tears, so I'm trying to comfort her while driving, and all the while hoping that some(one) doesn't cut you off."
Bryant sat in traffic trying to leave Paradise and watched as a telephone pole caught fire, which only increased her anxiety while sitting in an inferno.
"If that pole had come down, me and all the cars behind me would have been done for," Bryant said through tears. "I just hope everyone behind us also got out."
But before the harrowing journey out of Paradise, it was a frantic frenzy to get out of her home, Bryant said.
"When the manager told me that I had 10 minutes, I was like a deer in the headlights, just thinking 'what the f*** do I do?' " she said.
Bryant said that yesterday morning she opened up her suitcase for a change of clothes and realized she mostly just had a bunch of "crappy T-shirts" packed.
"I didn't have the wherewithal to grab anything useful, really," she said.
However, she did manage to grab some of her "simple pleasures" — the ashes of her five dogs and a good pair of boots she had splurged on.
She moved to Paradise in 2017 after being told that the property that she managed — and lived on — was being sold and she had six weeks to move.
But now, Bryant isn't sure what 's next.