BY EMILY MIBACH
Daily Post Staff Writer
An 11th-hour anonymous campaign mailer has targeted a Belmont City Council candidate, highlighting her involvement in numerous lawsuits as an animal rights activist who fought Ringling Bros. Circus.
The identity of the people behind the mailer attacking candidate Deniz Bolbol was a mystery yesterday (Nov. 5). She's running against the three incumbents on council, but the mailer said it was not authorized by a candidate or candidate's committee. While state law requires campaign literature like mailers to bear an identification number, the anti-Bolbol mailer said such a number was "pending."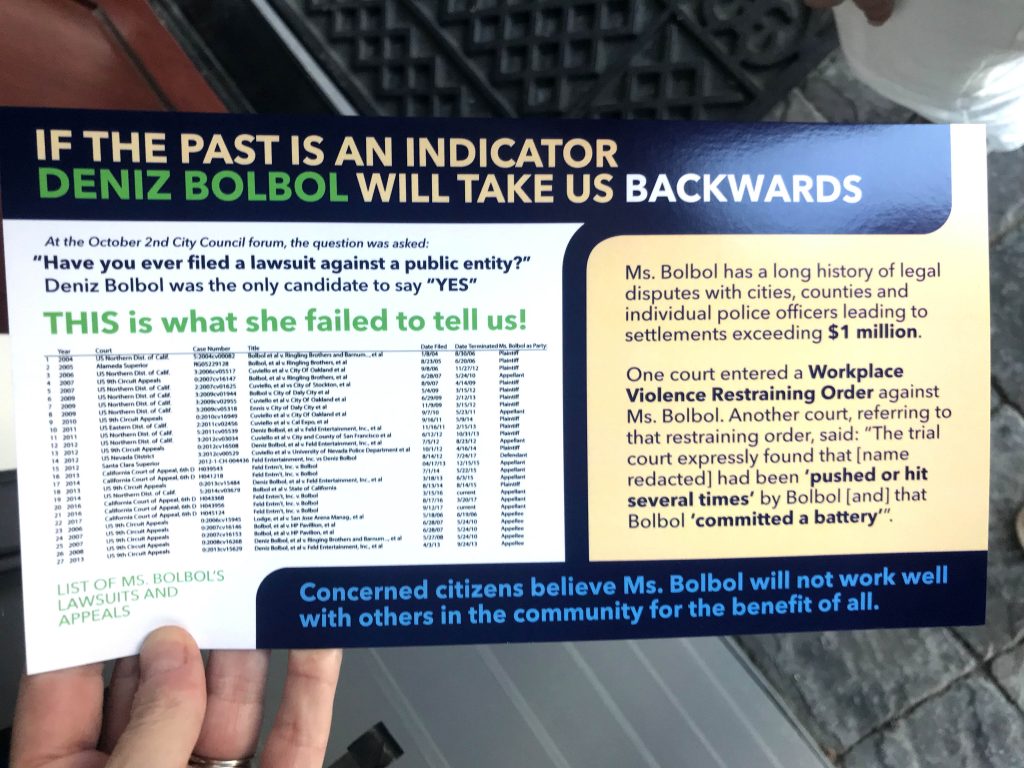 The glossy mailer has a headline that says, "If the past is an indicator, Deniz Bolbol will take us backwards." And then it lists 27 court cases involving Bolbol from 2004 to 2017 where she is identified as either a plaintiff, appellant or defendant.
The mailer goes on to say that she was the target of a "workplace violence restraining order" for hitting or pushing another person several times.
Bolbol said the suits were part of her animal advocacy work against Ringling Bros. She was a part of a group that worked to expose the abuse to circus animals. She often would videotape the circus workers handling the animals.
Bolbol's side of the story
However, Bolbol and others in her group were sometimes arrested while protesting and videotaping at the circus. So, Bolbol said she filed lawsuits against the cities of Oakland, Stockton, Daly City and San Jose, the cities' police departments and the circus to protect her right to free speech.
After the cases were resolved, Ringling filed a restraining order against Bolbol, claiming she battered two employees. Bolbol said she was wrongly accused.
"I can state emphatically I never committed violence against anyone. This case is on appeal based on new evidence, including official police reports, which I did not have access to previously. Ringling went out of business in 2017 because public sentiment no longer tolerated abuse of animals for circus entertainment," Bolbol said. "History shows that successful advocates/activists have been wrongfully found guilty of things they haven't done — so I'm not alone. I am proud of my advocacy work."
However, the mailer cites Bolbol's lawsuits from her advocacy work and says: "Concerned citizens believe Ms. Bolbol will not work well with others in the community for the benefit of all."
Mysterious committee
The mailer says it was paid for by "the committee to support Lieberman, Mates and Stone for Belmont City Council 2018 FPPC # pending. This advertisement was not authorized by a candidate or a committee controlled by a candidate."
FPPC refers to the Fair Political Practices Commission, which regulates elections in California.
Since this committee has not yet been assigned an FPPC number by the California Secretary of State, there is no way to determine who paid for the mailer. No independent expenditure forms had been filed with the Belmont City Clerk or county election's office yesterday related to the mailer.