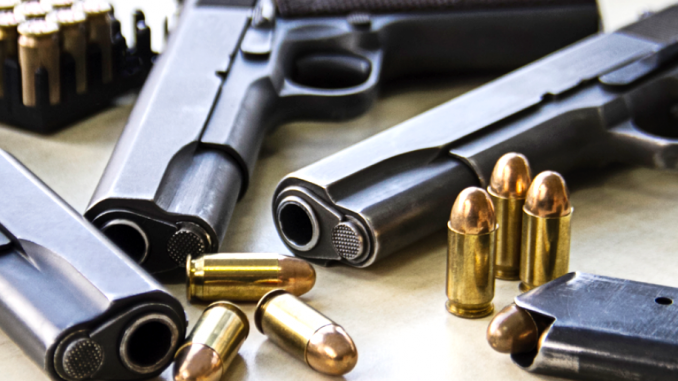 BY EMILY MIBACH
Daily Post Staff Writer
The Belmont City Council tonight (May 22) may take a stand in the nation's gun control debate, but some residents are asking the council to do more, such as ban gun stores, while others are calling the move unconstitutional.
About 25 people emailed the council to give their two cents on whether the city ought to go forward with a non-binding resolution that lays out the city's position on the issue.
Of the 25, 12 were in favor of the resolution, nine were against it and four residents either had questions about the resolution or general comments, according to the emails attached to the council's report on the item for tonight.
While half of the respondents were in favor of the resolution, some wanted the city take the issue a step further.
"I want to urge the council to review Belmont's zoning regulations in regard to gun stores. Belmont should learn from San Carlos' situation with the proposed Turner's Outdoorsmen super store and take pre-emptive action to ban, severely limit, or otherwise make Belmont an extremely undesirable location for selling firearms," wrote Lilian Svec.
Erica Sloan said that while she supports the resolution, it's passive and asked whether the city's gun storage laws could be made more stringent.
Since the resolution is non-binding, it won't impose any new regulations on gun owners in Belmont. Gun ownership is already regulated under state and federal laws.
Others who supported the resolution thanked the council for taking on the issue. Lauren McNall said once she saw a police car racing to Ciprani School and her first thought was that there was a shooting at the school.
"We live in a society where we have come to accept the ever increasing statistics of school gun violence. It is simply unacceptable. Children and faculty need to be able to focus on school," she wrote.
As for those who oppose the resolution, some got political:
"Stop wasting our tax dollars on your useless Marxist legislation! We have a constitutional right to keep and bear arms," wrote Chris Yonts, who sent two emails to the city about the resolution.
"Death by a thousand cuts. That sums up democrats and their vengeful gun laws. You don't support the Second Amendment and would love for it to vanish," Martin Croskery wrote.
Others want the council to not focus on state and federal regulated issues, but instead local ones.
"Do we in Belmont have a real problem with gun violence? Why add another resolution we do not need. All it does is make it harder for us who operate under the law. I think you need to do something else that is needed — like fix the streets," Gary Whitney said.
"Why not spend your time on issues that you have control over. This resolution is totally superfluous and is just junk political posturing," writes Dirk Van Ulden.
The resolution will be considered at tonight's council meeting at 7 o'clock at 1 Twin Pines Lane.
Among other things, it urges the Legislature and Congress to:
• Require background checks on all gun purchases. Gun stores have to do background checks right now, but they're not required when one individual sells a gun to another person.
• Prohibit magazines that hold more than 10 rounds.
• Prohibit the sale of armor-piercing ammunition, though the resolution doesn't specify what kind of ammunition would be banned.
• Reinstate the federal ban on assault weapons.
• Support gun violence prevention programs and public health research on firearms-related issues.
• Further restrict the ability of people to obtain guns if they have been convicted of hate crimes or domestic abuse.