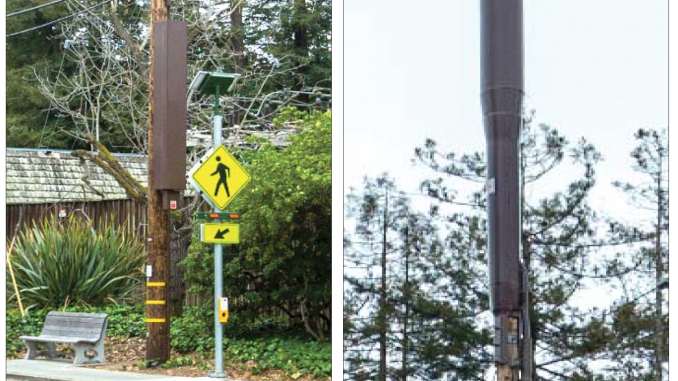 BY ALLISON LEVITSKY
Daily Post Staff Writer
Eleven planned "small cell nodes" intended to improve Verizon coverage in Palo Alto will spring up after all, angering dozens of residents who stormed City Council last night (May 21), up in arms about the antennas that would be mounted on utility poles.
Council voted 6-3 — with council members Lydia Kou, Greg Tanaka and Karen Holman dissenting — to reject seven separate appeals of the boxes planned for Louis Road, Elbridge Way, Loma Verde Avenue, Kenneth Drive, Stone Lane, Colorado Avenue and El Verano Avenue.
Two amendments proposed by Councilman Tom DuBois were intended to soften the blow for residents who opposed the antennas.
One amendment would have city planners look into the idea of preventing future equipment from being added to the same pole to prevent the antenna from becoming too large.
Another amendment instructed planners to monitor other communities to see if they're successful in placing equipment for the antenna underground. Verizon intends to put the equipment on the pole below the antenna, which drew objections from residents.
Verizon insisted that it's not feasible to put the equipment underground, a claim residents and council members doubted.
DuBois pointed out that in one case, Verizon only had to remove some bushes and a fence to underground a particular node.
The hearing took about four hours and included comments from approximately 40 residents, most of whom expressed outrage about the nodes.
Concerns about radiation, poles falling down
Most focused on aesthetic concerns about the boxes as well as the noise and radiation they emit. Some residents said they were worried the poles might topple over in a natural disaster like a fire or earthquake.
"I don't think phone poles are very attractive to begin with," Kniss said.
A few commenters said they had poor cell service in town and welcomed the improvements they expected from the equipment.
"I've noticed personally that cell service has been degrading over the last couple of years in Palo Alto," Councilman Greg Scharff said. "I thought it was marginal at best, the difference in aesthetics between a pole with the Verizon pole equipment and without the Verizon equipment."
A vocal crowd
At one point, Kniss called for a 10-minute break because of repeated yelling from angered residents, some of whom had called out "Not fair," when she asked the room how many of them owned cellphones.
Councilwoman Karen Holman condemned the residents' boisterousness and contrasted their behavior with that of the residents of the Buena Vista Mobile Home Park, who she said had shown remarkable civility over years of fighting for their endangered homes at public meetings.
"We have decided it's OK to yell, to show one's behind to a speaker, to stand with middle fingers projected towards the council," Holman said, referring to an attendee who had stood with his back to the dais. "Our obligation is to respond to what is and rely on our judgment, what's best for the entire public, and not to respond to the degrading behavior of some individuals."